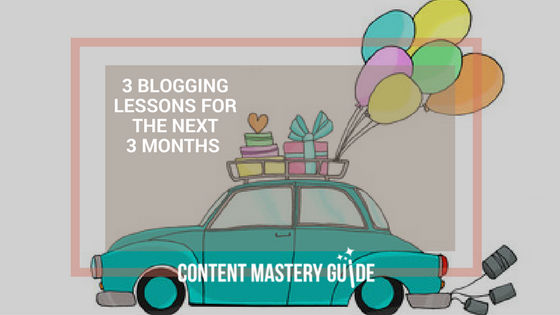 In the "do as I say, not as I do" category, I'll be taking a hiatus from blogging until the middle of June (after my wedding and honeymoon). I do plan on keeping in touch via the Blogging Tips newsletter so please subscribe if you'd like to continue the conversation.
The CMG blogging tips library
Since reading this post about seeing your blog as a library, I've been thinking about the library I've created here at Content Mastery Guide. I'm very proud of the content I've produced, yet I sometimes wish it was easier and quicker for you to get your blogging questions answered.
Yes, there is a search bar and a categories list (the most essential ingredients of an effective blog sidebar), but I wondered if I could help you even more. (When I tackled this question in 2011 I came up with this roadmap for CMG readers.)
Three blogging lessons for the next three months
I decided to identify the three core messages about blogging that I've found myself repeating over and over again through the years, and the ones I most want you to understand.
Next, I rounded up my very best posts and resources that reinforce those lessons, and gathered them for you here in one easy-to-use collection that will greet new and returning blog readers while I'm away.
(1) Blogging works
(2) Blogging is easier than you think
(3) Blogging takes planning and commitment
My 2018 Q2 blogging plan
I've shared previously about some changes in my business, and the uncertainty that comes along with that. While I've tried to keep blogging even through that confusion, I've now decided to step away for three months, partly so I can concentrate more on my upcoming wedding and honeymoon.
I plan to keep up my daily writing commitment, but I'll be focused less on producing blog posts and more on doing some deep reflection about my business and the bigger picture of my life as well.
I'm making no pledges or promises about what to expect from me in June. Instead, I'm staying open to seeing how that unfolds. What I do promise is to keep in touch with my Blogging Tips subscribers along the way (subscribe now to stay in the loop).