There is a lot of information out there, and the people in your network are probably feeling overwhelmed by it all. This can be an unfortunate source of stress for them, but it's also an important opportunity for you.
What is content curation?
Content curation is the process of scouring the Internet, filtering out the junk (unfortunately there's a lot of that), and discovering the most valuable, relevant and helpful content about a particular topic. By sharing those gems with your network, you accomplish these important objectives:
Build your personal brand (reputation) as an expert in the topic
Be more active and visible on social media
Enhance your relationships by being helpful
(Guess what? Those are also three of the most important goals of business blogging!)
Whether you share other people's content on your own blog, on social media, or in other ways (we'll cover these options in a separate post), it's worth learning how to do it well.
Here are the three steps I recommend for getting started with content curation:
1. Define your content categories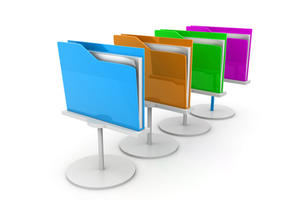 Just as it's essential to create and stick to a set list of categories on your business blog, it's also important to mindfully select the topics you will share about on social media.
Start with the problem you solve with your particular product or service. Then branch out to a few related topics. Filter all of these possibilities through the lens of what will be most valuable, interesting and relevant to your ideal customer.
For example, while I blog exclusively about business blogging and social media, on social networks I also share resources about small business, marketing, and productivity, because I know that will be helpful to my ideal customers (small business owners and marketing professionals who serve small businesses). I also share local items to support charities and businesses in Barrie (because blogging is giving).
By curating a set list of topics, you send a unified message of what your business is about. (Click to tweet)
2. Organize your content sources
Content is likely flowing to you in an abundance of formats, but there are tools that make it easier to quickly find what you need, or save something to come back to later.
In email:
You can apply labels, filters, folders or rules to group together your best sources into categories so their latest contributions are always at your fingertips. With Gmail, for example, the "Promotions" and "Social" tabs can be a treasure trove of resources you may want to share with your network.
On social media:
On Twitter, you can create a list for each of the categories you want to curate content from. As you discover new sources of people who are either creating or sharing the best articles in those topics, add their Twitter account to your list.
Once you've created your lists, organize them for easy viewing with the free social media dashboard Hootsuite (see: How to Spend Only 10 Minutes Per Day on Twitter).
On Facebook, you can create lists of friends who tend to share content that would be useful to your audience. You can also use interest lists to organize company pages the same way. Then when it's time to curate (see #3 below), you can filter your view to only see the posts from people who share about particular topics.
On LinkedIn, join groups that center around the topics you've defined in your categories. Then you can browse discussions in these groups for links people have shared.
You certainly don't need this level of organization in all these social networks, and some (Facebook) are more finicky than others. Experiment with the network(s) you use the most.
Outsourcing tip: Once you've identified your sources, curation can easily be outsourced. Ask a team member to review blog posts, social media updates, or newsletters from these people and gather up links for you to approve and post.
3. Batch your curation time with social media scheduling tools
Of course you can curate content immediately as you find it, but unfortunately that can interrupt whatever activity you were doing and take you down a rabbit hole of unproductivity. That's one of the biggest complaints I hear from business owners who are trying to incorporate more content/social media marketing.
Instead, schedule specific time in your week for checking your best content sources, exploring the web, learning new ideas, and sharing the best of what you find. By setting a time limit and a goal of curating content, you turn what could have been aimless wandering (which Alexis Grant says also has its benefits) into a purposeful marketing activity.
Tools like Buffer and Hootsuite (and there are many others) allow you to schedule social media updates in order to spread them through the week. This is a more balanced approach and ensures your social media streams will have consistent activity that provides value to your readers.
If you come across a relevant article outside of your set curation times, email it to yourself, add it to a bookmarks folder, or try the superbly simple saved.io (thanks to Belle Beth Cooper for the discovery).
Remember: Whenever you schedule content on social media, check back for reactions so you can continue the conversation. (Click to tweet)
As an important extension of creating your own original content about your area of expertise, curating content about that topic helps solidify your credibility as a valuable resource. These initial steps will get you started, and in a companion post I will offer details about how to quickly share your curated content.
---
Want help with your content curation? Learn more about our content curation services!