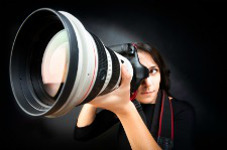 With the plethora of mobile devices and apps at our fingertips these days, business owners can stay in touch with their network anytime and from anywhere.
These updates keep you visible to your clients, prospective clients and referral partners. When you consistently deliver valuable content – tips, solutions and resources to improve their lives or businesses – the people in your network will learn to trust your expertise. Solid content is what turns social networking into business networking.
Of course it's not all about business, though. Part of the reason to participate on social media is to be social, and to give your network a peek behind the scenes of your business AND your life.
Photos are the perfect way to deliver that peek. Like any pet parent, sometimes I can't resist sharing cute photos and stories about my greyhound Patch. Usually I limit these to my personal profile account on Facebook, but not always. I know that many of my Twitter friends are dog lovers, so these posts help us connect on a different level.
Depending on your business, photos can draw people in to want to know more about you and what you do. They can also entice prospective clients and customers to try your products or services.
But before you share a photo on a social networking site, ask this question:
Does this photo belong on my blog, instead of on a photo sharing site?
Here are some benefits to posting candid photos about your business on your blog:
Seeing is experiencing – It's one thing to say that you had a successful event or an awesome morning of baking, it's another to show photos of your happy attendees or delicious treats.
You're the host – When you alert your social network that there are new photos on your blog, you're inviting them to YOUR site (your home, as it were), rather than to a third-party site.
Brings YOU into the blog – One of the reasons people visit a blog is to get to know the person/voice behind the business. These conversational snippets are part of what makes a blog a blog.
Makes the next step easier – Once people are on your blog, they're only a hop, skip, jump and link away from taking an action – whether that's to call you, read more about your product/service, visit your business or place an order then and there.
Three Steps to Sharing a Photo on Your Blog
While it may not seem as fast and easy as sharing through social media, posting a photo to your blog can be as simple as 1-2-3.
Check your mobile options – Typepad and WordPress's self-hosted and hosted platforms all provide mobile posting options.
Post your photo
Scoop out the details – Describe all the action that's going in your photo, and be sure to mention the related product or service. Give your reader the links/info they need to take the next step.
With a little practice, sharing photos on your blog can become second nature. As a result, the people who enjoy your photos can also enjoy your products and services.