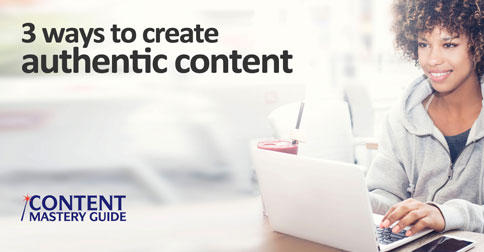 Let's face it – you're not the only nutritionist to write about superfoods, or the importance of drinking water, or why whole foods are better than processed foods. You're not the only naturopathic doctor to write about how to get a better night's sleep, the benefits of hydrotherapy, or how to choose chemical-free household products.
One sure-fire way to write about well-covered topics and still provide value to your readers is to infuse your writing with personality. Not just any personality – your personality. That is what will set you apart from the other nutritionists, naturopaths, and wellness professionals.
No one else has your exact combination of life experiences, professional expertise, sense of humour, hobbies and interests, values, triumphs and trials. These things are what make you you.
When you write authentically from your own true voice, you're showing prospective clients who you are and how it feels to be with you. Doing this will draw in the right clients and repel the wrong clients, so you can connect with the people you were truly meant to help.
Here are three ways to create more authentic content:
Excite
Have you ever seen someone's eyes sparkle as they talk about their latest project, client triumph, or discovery? You're witnessing the intersection of passion and purpose that we all feel when our work is aligned with our values and God-given skills.
Be sure your topics are exciting to you, or find ways to remove whatever is blocking your blogging joy. If you're still not feeling the love for a blog post, you have my permission to scrap it and start again!
Delight
You also want to feel excited about who will read your blog posts and how their lives will improve as a result. When you do, your words will jump off the page in bursts of love for your clients and potential clients, and they will feel your commitment to help them.
A research study out of Emory University in Atlanta used magnetic resonance imaging (MRI) to prove that the brain's pleasure activity "lights up like a Christmas tree" when someone is surprised with a nice gift.
Besides giving value by sharing your generous ideas and tips, you can surprise your readers with an additional free bonus (in exchange for subscribing to your email list so you can continue sending them valuable content). Create a checklist or quick-start guide (also known as a content upgrade), or give them the chance to experience more of your personality via a video or audio recording.
Recite
Are the words on your page the same you would use in a conversation with a client? I like to actually imagine a client sitting across from me as I write. Then, I read my post out loud or use Microsoft Word's text-to-speech feature to hear someone else read it.
This is an excellent proofreading technique for catching errors, and it also helps make sure you're writing like you talk. This gives prospective clients a truer sense of what it's like to work with you.
When you excite, delight and recite in your blogging, you'll create a more powerful bond with your readers. Your perfect clients will resonate with not just what you write about but how you write and who you are being when you write.
P.S. Want more ideas about how to write high-quality content that has more impact, attracts more ideal clients, and makes you more money? Register for my FREE webinar, Write Less, Earn More With Blog Posts That Are Easy to Write and Irresistible to the Perfect Clients For Your Health and Wellness Business.