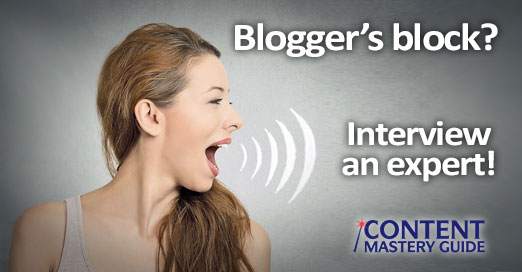 In a post about how to leverage expert interviews to sell your online courses, my friend Nicole Holland revealed her top six benefits of interviewing experts in your field. She should know, since in just over one year of doing interviews she increased her own online audience by 17,000!
Nicole Holland's top 6 benefits of interviewing experts
You get to learn from the best of the best!

You get to know them and they get to know you!

You get to help them make money!

You get to have fun with them!

You get to easily create high-quality content!

You get to earn instant credibility through association!
(Read the full post for more details, interviewing tips, and insights from Nicole.)
While Nicole shares her interviews via her podcast and her free online Business Building Rockstar Summit, we can easily apply this strategy to wellness blogging. For example, you can interview:
Three success tips for interview posts:
Take notes while you talk, transcribe the interview, or (this is my preferred method), ask the person to send their answers by email and let them know you will lightly edit the text as needed.

Present the text in a simple Q & A format (

here's an example

), or intertwine their answers with your own comments (

here's an example

).

Stay true to

your blog's key categories

when choosing the people and topics for your interviews. That way even when you're highlighting someone else's ideas, you're still reinforcing your own expertise.
BONUS: You can watch and listen as Nicole shows off her interviewing skills at the Business Building Rockstar Summit. You'll hear 40+ marketing experts teach the exact steps, strategies and mindsets that have helped them build brand recognition and attract a never-ending flow of amazing clients and customers.
Claim your FREE ticket to the Business Building Rockstar Summit
(Linda's affiliate link)
P.S. As a follow-up to meeting on Twitter and chatting about how social media is meant to be social, Nicole chose me as her Twitter expert for the Business Building Rockstar Summit! Register now to hear this and all of the other valuable sessions.
P.P.S. If you liked this post, you might enjoy the Blogging Tips newsletter, delivered weekly to your inbox! Sign up here.