If you want to receive all of my latest posts by email, click here to subscribe to the weekly Blogging Tips newsletter.
---
The Online Marketing Institute was founded in 2007 and provides online courses where professionals, entrepreneurs, agencies, students and teams can learn about digital marketing.
In January 2014 they published their Top 40+ Digital Strategists in Marketing for 2014, and I was thrilled to be included in this very impressive group.
When they notified me, they asked me to provide one insight that will help people improve their online marketing in 2014. It was difficult to choose just one! I wrote about how choosing categories for what you share on social media is just as important as choosing categories for your business blog.
You can read my insight, along with seven others, in this post about social media marketing strategies.
Clean My Space listens to their audience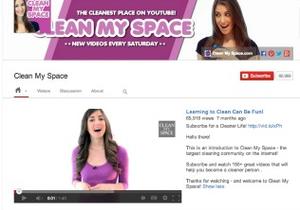 Have you met the Queen of Clean? She's my friend Melissa Maker of Clean My Space, a Toronto-based cleaning company (Melissa's team cleaned my space before I moved to Barrie).
She's also a queen of online marketing, in particular what she's created over at The Cleanest Place on YouTube.
I love what Melissa does to promote her business online, and was thrilled to use her as an example in a guest post I wrote for OMI – Customer-Sourced Content: 7 Ways to Turn Questions into Content.
It highlights the importance of turning to your customers and prospective customers for content ideas. You can never go wrong by answering actual questions! After all, if one person is asking, chances are many others are wondering the same thing.
P.S. If you have a subscription (or a free 30-day trial) at OMI, you can also watch my course about customer-sourced content or check out the slides on SlideShare.