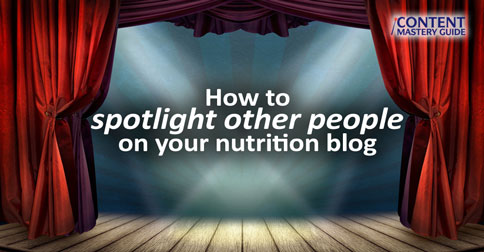 Blogging consistently is a key to success, both for the marketing benefits and for your growth as a blogger. Yet not every article has to be in-depth like a how-to post. In fact I recommend you aim for just one of those every month.
In the weeks in between, choose from other types of posts that may be shorter, easier and quicker to put together. These include the personal post, the curated post, and today's topic: the spotlight post.
Is there someone you think everyone should know about because they're so brilliant, creative or knowledgeable? How about a food product, gadget or tool you keep recommending again and again? Use a spotlight post to spread the love.
Consider these three options when you want to introduce someone to your readers:
Interview the person, and present their insights as a profile and/or a how-to post about a specific topic. You can use a

simple Q & A format

, or

intertwine their answers

with your own comments.

Invite the person to contribute a guest post, either a reprint from their own blog or an original article for your readers. Include an author bio with a link back to their website. If a reprint, give the link to the original post.

Write about the person (or product), with or without

links to other blog posts

, websites, videos or other resources. Even if you weren't able to interview them personally, you can include brief quotes from their own writing or from other interviews they've done. And be sure to let them know you featured them!
Similar to a curated post, open your spotlight post by saying a bit about the person or product, how you first heard about or met them, and why you treasure them as a trusted resource.
With video or audio interviews, be sure to also provide some text for people who don't want to just listen or watch. Offer a transcript, or at the very least a bullet list of highlights.
Spotlighting others on your blog lightens your load and creates more value for your audience. As an added bonus, you'll build and deepen relationships with other experts in your field.
Now that we've explored the how-to post, the personal post, the curated post, and the spotlight post, which of these formats do you think will be easiest for you? Mixing them all will give your blog maximum variety and interest.
For help brainstorming topics for each of these four blog post types, visit http://www.contentmasteryguide.com/blog-topic-planning-worksheet to download your own topic planning worksheets.
P.S. If you liked this post, you might enjoy the Blogging Tips newsletter, delivered weekly to your inbox! Sign up here.