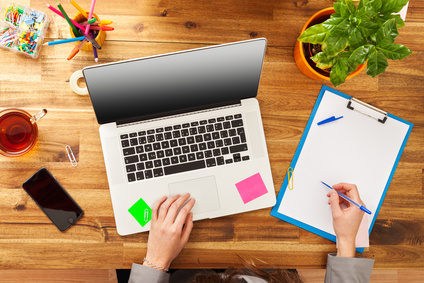 Blogging is a doubly effective marketing tool that can attract prospective customers to your website and impress them when they arrive. That means they're more likely to return, and to think of you when they need your services.
Here are three truths to remember about marketing a small business with a blog:
There is room for you in the blogosphere
Many small business owners tell me they're intimidated to start or keep blogging, because there are so many other qualified experts blogging about the same topics.
Yet no other expert has the exact same background, skill set, perspective, personality and experiences as you. Find ways to inject these elements into your posts, such as real-life examples, case studies from clients, or quirky quotes.
You may turn off readers who don't resonate with how you see the world, but isn't that a good thing? The people left behind will be the best customers for you!
You can also stand out by committing to produce the very best content you can, and to keep up with your blogging.
Producing high-quality content that is relevant, informative and interesting to your target audience is only the start. From there you need to build relationships with your readers so your ideal customers will recognize that you're a good fit to meet their needs.
It should be clear to both you and the reader what you want them to do after reading your blog post (in marketing terms this is the call-to-action or CTA). Here are four common actions you may want your reader to take:
Sit down and stay awhile – Provide links to other blog posts on your site the person may enjoy. Help people find their way with lists of related posts and a clean sidebar menu.
Come back soon – Provide a sign-up form for an RSS and/or email subscription. This sends your blog posts directly to the people who want to read them, so they don't need to remember to return. Most importantly, it allows you to reach out to the people who want to hear from you. That can and should include updates and offers from your business – just keep the main focus on delivering the relevant content that attracted them in the first place.
Bring a friend – Install social sharing buttons that make it quick and easy for readers to share a link to your post with their social networks (we'll talk more about social media in the third truth).
Jump in, the water's fine – Design clear menus and/or banners that link to your products and services. Remember that your repeat visitors have been getting to know you over time, and may now be ready to buy something or hire you.
A blog only works if people read it
When you've put the work into creating great blog posts, don't keep them a secret! SEO (search engine optimization) is one way to be found, but it is certainly not the only way. People can discover your blog from a multitude of sources, and you can accelerate that process.
Social media
For every blog post, compose a brief teaser message for each social media platform. Capture people's attention with a compelling question, a quote, or the most important thing they will gain from clicking through to read your blog post.
Here are specific tips for the three major networks:
Twitter: On Twitter you have a limit of 140 characters, but keep it even shorter to give people room to add a comment and RT (re-tweet or re-post to their own followers). Hashtags help you be discovered by new people.
Facebook: Your posts don't show up in people's streams automatically, even if they've liked your page (you can pay to boost these results). Look for creative ways to encourage people to respond to your post (like, comment or share), since Facebook rewards this engagement with more visibility.
LinkedIn: Aside from posting a teaser message to all your connections, you can also send a personal message to those contacts who would most benefit from a particular topic. You can share a link in a group, as long as it's relevant to that group's focus, and fits with the culture and rules of that group.
Email
Once people have subscribed via your sign-up form, you can send your blog post links via automated RSS broadcasts and/or manual newsletters. You can also send the link individually to people who've shown interest in the topic or asked a question that your post answers.
For the widest reach amongst your personal and professional contacts, add a link to your blog or your latest blog post (WiseStamp does this automatically) to your email signature.
In-person events
When you're out and about in the community, look for chances to promote your blog. If someone new asks what you do, or someone you know asks what you're up to, tell them about your blog and what topics you cover.
If they seem interested, offer your business card with your website address (be sure your blog is easy to find from the main page of your site!). If there's a blog post that relates to the conversation you had, follow up with that person by emailing the permalink of that post.
Now that you know these truths about marketing your small business with a blog, which of these tips will you apply first?