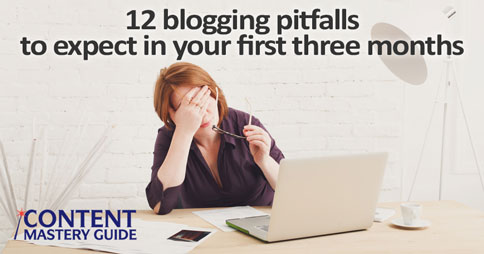 You've convinced yourself that blogging is a good idea for your wellness practice. If you work in a clinic setting, you've gotten the rest of the team on board. All you have to do now is turn your subject matter expertise into captivating online content.
Before you start, be aware of these 12 predictable pitfalls you will face in your first three months of blogging, and plan for how to survive them:
1. Copycat confusion
You try to model your blog after others in the industry, but you don't get the same results. What you're missing is the solid foundation underneath any successful business blog. Survival tactic: Study other blogs for what you like and don't like, then apply those things to your own unique blogging strategy.
2. Lack of buy-in
You were gung-ho from the start, but now you're experiencing skepticism and resistance – either internally or amongst your clinic team. There's confusion about what you're doing and why. Blogging may feel like an onerous extra step that dilutes your existing marketing efforts. Survival tactic: In your blogging strategy, show exactly how blogging will fulfill your marketing goals.
3. Too many ideas / Too few ideas
You may be flooded with new ideas for blog posts, to the point of overwhelm. Or, you may feel unsure about which subjects would make a good post. Survival tactic: Create an editorial calendar and pre-populate it with key topics that meet your customers' needs and your goals for the blog.
4. Branding confusion
If your blog has a different look and feel than your website, visitors aren't getting a unified experience of your brand. Survival tactic: Work with your web developer to integrate the blog into your main website, with the same colors, layout and navigation options.
5. Every post is a dead end
Some people say they've seen and liked your blog, but most tell you they weren't aware of it, or they didn't realize anything new had been added. Survival tactic: Offer an email subscription for your latest blog posts. As well, link to other related posts from each post. Lastly, suggest one action readers can take after they read, e.g., read other posts, leave a comment, connect with you on social media, or learn more about one of your related products or services.
6. Comment obsession
You check the blog several times a day and despair there are no comments. Why do other blogs have comments and yours has none? Survival tactic: Have patience. It takes time to build an audience. Also, with some topics people may not feel comfortable leaving a public comment. This doesn't mean that the blog isn't working.
7. Inconsistency of quality and frequency
One week there are two new posts, then nothing for two months. Most posts are well written and researched, but if you're honest, some lower-quality posts were published just to have new content. Survival tactic: Have a clear process for managing the calendar, editing submissions, and adhering to the basics of blogging.
8. Category clutter
Each contributor makes their own list of categories for every new post. Soon, there are several versions of the same category, creating confusion for readers and writers alike. Survival tactic: Lay out five to seven key categories in your initial blogging strategy and insist all posts fit with that list.
9. Good content can't get through
In a larger clinic or organization, you may need to have your company's legal, human resources, or communications department review and approve posts. Sometimes they'll ask for revisions, and this can feel frustrating when you're trying to keep your blog fresh and current. In other cases, it's just one person who's the bottleneck (it might be you). Survival tactic: Consult any content reviewers when writing your initial blogging strategy, and then meet regularly to discuss their issues and concerns. If you're on your own, keep an honest eye on any delays and get the help you need.
10. Losing enthusiasm and fizzling out
After plowing forward for awhile, you start to question whether this is worth the time, effort and stress. You post less and less, and blogging moves down the list of daily tasks until it's relegated to a few stolen moments in between more pressing priorities. Survival tactic: Follow your editorial calendar and keep posting. Read articles about successful blogging techniques and the benefits of blogging.
11. The pull to quit
As you post less, momentum stalls and you lose touch with your initial enthusiasm for blogging. You wonder whether it's going to produce the promised results, and when. Survival tactic: Set clear and realistic goals for your blog, with both qualitative and quantitative measurements. Schedule specific times to objectively review these measurements. Remember that blogging is a long-term strategy that builds on itself and creates a collection of marketing collateral you can draw on for years to come.
12. Success!
If you plan ahead for these pitfalls and apply these wellness blogging survival tactics, you will see a return for your blogging efforts, such as increased awareness in the marketplace, more leads, or the "social proof" of people liking and sharing your pages and content. Some savvy marketers even turn their blog posts into other valuable assets such as white papers, presentations, books, case studies, videos or checklists.
Your first three months of blogging don't need to be a battle through one pitfall after another. Learn how I can help you master the art of blogging for clients.
P.S. If you liked this post, you might enjoy the Blogging Tips newsletter, delivered weekly to your inbox! Sign up here.