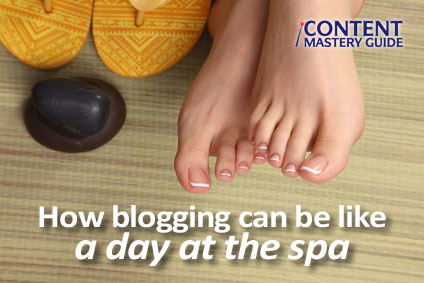 To celebrate our summer birthdays (mine is August 11th if you want to send a card), last weekend my mother, sister and I spent the day together at a spa. We used to see a movie, but last year we upgraded and declared this as our new annual tradition.
If blogging still intimidates you, or feels like a beast demanding to be fed, use these short summer months as an opportunity to lighten your approach and even find some joy in the process.
Here are three ways that blogging can be like a day at the spa:
The planning is one of the best parts.
A 2010 research study revealed that planning and anticipating a vacation can be just as enjoyable – if not more – than the trip itself. I know I had been looking forward to the day since last summer, and even though I wasn't feeling my best, I still had a wonderful time that was cumulative through all those months of planning.
Planning your business blogging focuses both you and your blog posts, gives you motivation and confidence to keep up with your blogging, and allows you to consistently deliver the kind of helpful content that will attract people to your business.
The options are endless.
There were so many tempting spa services to choose from, I think I was more relaxed after just reading their descriptions.
On your business blog, you may think you have to write a detailed, wordy article every week because that's what some marketing gurus advise, but you don't.
Luckily, there are many different styles of blog posts, and you can mix and match them to find a balance that's easiest for you and provides an interesting variety for your readers.
It's even better with others.
I used to take regular spa days as vacations, and while I always felt relaxed and rejuvenated, sharing the experience with my loved ones definitely amplified my enjoyment.
Your business blog can be a team effort, taking some of the work off your shoulders and creating more value for your audience. Your blogging team may include:
Guest contributors – related experts in your industry, vendors, or customers with interesting stories
Regular bloggers – staff members, contractors, or other partners can have their own weekly or monthly column about their particular area of expertise
People who assist you with writing, editing, and publishing and promotion
I know that blogging may still feel more like a trip to the dentist than a trip to the spa, but I hope you'll give some of these ideas a chance. After all, your customers are already online, waiting to discover your wisdom!
P.S. If you liked this post, you might enjoy the Blogging Tips newsletter, delivered weekly to your inbox! Sign up here.