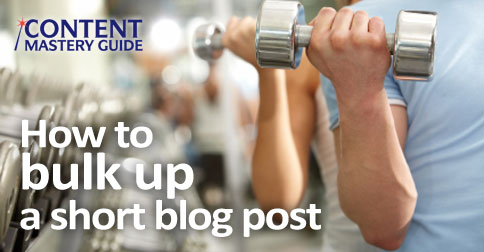 When I present my workshop about how to write your first four blog posts, I remove the pressure of needing a new in-depth article for your blog every week.
Instead, I suggest that you aim to write a feature article once a month, and then in the weeks in between you can write other types of posts such as personal posts, curated posts, and spotlight posts.
The funny thing about relieving pressure is that it can really open a channel for creativity. You may start to notice blog post ideas popping up more often, blooming in all sorts of unexpected places.
I encourage you to keep a notepad or mobile note-taking app nearby (I use a combination of Wunderlist and Google Docs), so you can capture these gems and build on them during your next scheduled blog writing session.
Brainstorming is a great start, but you still need to turn that stream of consciousness writing into a full-fledged blog post. Here are five suggestions that can help:
Set the stage

– Introduce your article with some standalone text such as a quote or a powerful question, use your opening paragraph to start telling your story, or simply speak directly to the reader about the topic and why it's important (e.g., "Have you ever…." or "I hear from so many of you that…").

Show as you tell

– Provide an example that supports what you've written, such as a personal story, a client story, or something about a well-known public figure. Note: If you have (or want) a global audience, be sure to provide enough context that the story is relatable even if the reader hasn't heard of the person.

Sprinkle in some stats

– Support your main point by sharing some data. Visual charts and graphs are particularly powerful, just be sure to spell out some of the results in your text as well, along with your commentary about what you've shared. You can also reference other bloggers, authors and experts and describe their findings or opinions.

Quote yourself

– Look to your own previous

blog posts, social media messages, and email conversations

for phrases, sentences or even entire paragraphs that you can bring over into this new post. Freshen them up and rework them for the new setting. This reinforces the core message of your blog, plus it's likely some of your readers missed this content the first time around.

Work them up

– Once you've presented your topic, summarize your main points and suggestions. Inspire your readers to take an action or make a change. Give them hope that if they do, they will see improvements to their health and wellness.
If you've come up with an idea you love, there's no need to keep it hidden just because of a low word count. Bulk up your blog post with these tips and get it out into the world.
P.S. If you liked this post, you might enjoy the Blogging Tips newsletter, delivered weekly to your inbox! Sign up here.