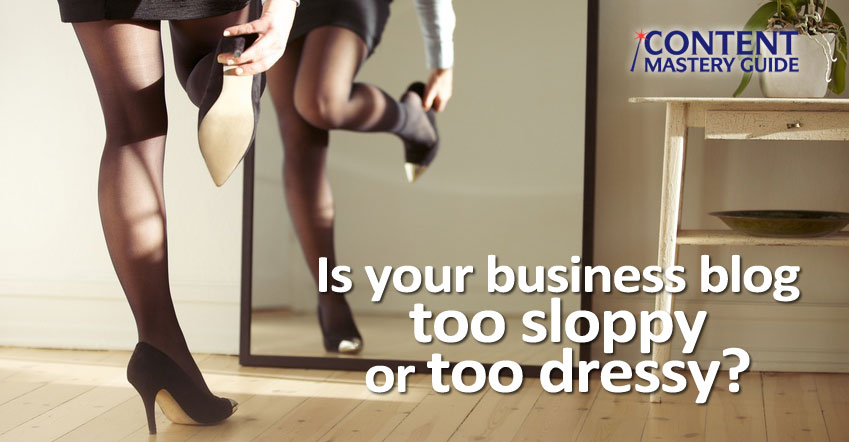 Authenticity was a common theme at the recent Content Marketing World conference. Prospective customers must be able to see and connect with who you really are, in order to build a relationship that may eventually lead to them hiring you.
New business bloggers often feel tempted to try and sound smart in their blog posts so they can impress readers with their expertise.
Dressed up writing might look like:
Passive language rather than

active

Complex terms instead of simpler, more common phrases

Jargon that only other industry experts will understand

Impersonal, "stuffy" tone of voice that feels distant from the reader
At the other end of the spectrum are the business bloggers who are far too quick with the Publish button. Pressured by time (and maybe an unrealistic publishing schedule), they're more concerned with getting it done than the impression they might be making on their audience.
While done is definitely better than perfect, a poorly written blog post can have a far more negative impact than waiting another day or two to proofread your post.
Sloppy writing might look like:
Spelling and grammatical errors

Topic is unrelated to the core

theme of the blog

Readability problems like run-on sentences or paragraphs that are too long
How to dress your business blog for success
Think of it this way:
Would you leave your house for a business meeting wearing pyjamas and slippers? Probably not, since this wouldn't be very professional.
On the other hand, you certainly don't have to pour yourself into an evening gown or tuxedo every time you step outside your door. You won't be comfortable, people won't know how to relate to you, and your message will be lost in the distraction of how you're dressed. And the very same things happen when you try to dress up your writing.
Instead, take the time to run a comb through your blog post and deal with any glaring errors. You can look the part of a professional expert, just don't try to be someone you're not.
This post was updated from Is your writing all dressed up but going nowhere?
P.S. If you liked this post, you might enjoy the Blogging Tips newsletter, delivered weekly to your inbox! Sign up here.