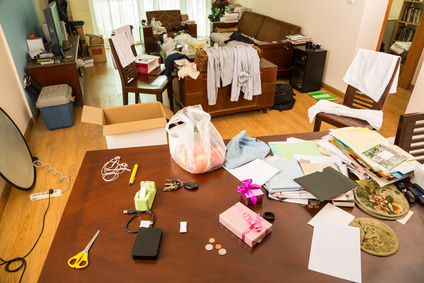 At home, we often don't see clutter building up around us because we're looking at it every day. We have a "system" and we know exactly what every pile or piece of paper is, yet the overall effect looks like a disaster zone.
The same may be happening on your business blog. There are so many cool options for adding content to your business blog sidebar. But just because you can do something, doesn't mean you should.
You may have good reasons for everything you've added to your sidebar, but when you put it all together it can add up to clutter. The dangers of a cluttered sidebar include:
Your reader can't find what he or she is looking for
It looks unprofessional
It's visually jarring and unpleasant
It's confusing
Any of these things can drive a reader away, or detract from your credibility and trust while they are on your site.
Social proof widgets
In the quest for social proof (statistics or quotes that demonstrate to website visitors that others use and trust your website, products or services), some people overload their blog sidebar with too many of the wrong things.
For example, there are widgets that will automatically update your sidebar with a current count of your social media followers, your latest status updates, recent comments from your followers, or even photos of some of your followers.
These widgets have two big drawbacks because they can easily:
Distract your reader. Depending on the content of each particular message, this may detract from your goal for the website – the action you wish your reader to take. And because most of these widgets link directly to the social network, it's also very easy for your reader to click away and get lost amongst the hundreds of conversations happening at any given moment on those sites.
Raise doubts about your social media status. If you install the widgets before you've built much of a following or gained consistent engagement and activity on those pages, this will be glaringly obvious to everyone who visits your website.
There are ways to display social proof effectively. Once you have built up a solid following, look for options that post your number of followers, allow people to follow you without leaving your site, and/or ensure any links open up in a new window.
Links to social media profiles
Speaking of links, should you have links to your social media profiles on your website, and if so, where? In a workshop at the recent Content Marketing World conference, Andy Crestodina called these "leaks in the bucket," because if these links are too prominent people will use them to leave your site and could easily get distracted from what they were doing or reading.
Chris Brogan told me the same thing while I was redesigning the Content Mastery Guide website, so I put my social media icons on the Contact Us page. I'm considering Andy's suggestion to put them in the footer, though. That's because as a content curator, I appreciate when these are easy to find so I can properly credit and tag the authors of the content I share on social media.
Category archives by month
As I discussed in a post about the best ways to link to older blog posts, it's a mistake to use up precious blog sidebar space with a list of months. Instead, use widgets that display the titles of your most recent posts, along with a list of categories that reinforce your credibility as an expert in those topics.
Unfocused blog posts
Let's travel a little west of your blog sidebar to the main column of your blog. Is there clutter hiding here? There may be, if any of your posts are unfocused, outside your main topic areas, or more like diary entries than content marketing.
By clearing the clutter from your business blog sidebar, you'll freshen up your blog to be more welcoming and useful to your readers. In turn, that leads to longer website visits and trust that you'll provide more value – both on your blog and with your products and services.