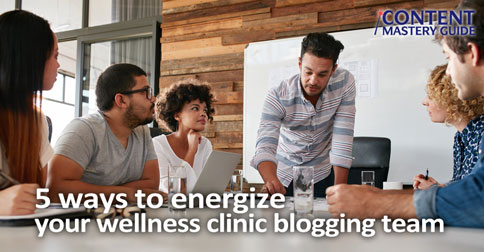 Wellness clinic owners and managers often tell me they know they should be blogging more often, but they're just not getting any contributions from their team.
Before you can expect your team to support your blogging efforts, they – and you – need clarity about what they're signing up for, specifically:
Purpose – Who will the articles on your clinic's blog help, and how?

Topics – In which key subject areas do your practitioners excel? What sets your clinic apart from others?

Goals – What do you want your blog to achieve and how will you measure those results?

Schedule – How often will the team post new content to the blog? To achieve that, when does each individual contributor need to submit their work?

Ownership – Who is ultimately responsible for maintaining the blog? This may be you as the clinic owner, your office manager, someone else on your team, or you may

hire an experienced blog manager

.
Solidifying these details will help everyone start with a mutual understanding of what you're trying to accomplish with your wellness clinic blog, and how. From there, employ these five elements to continually activate your team of wellness bloggers:
1. Awareness
Keep reinforcing the blog's purpose. Remind the team that their efforts could inspire and motivate your clients and potential clients to live healthier lives.
Recognize and celebrate any and all results, from a "Like" on Facebook to a comment from a client to increased views of the website. You may not get much feedback to start, but this will grow over time if you stick with it, so celebrate the small victories right away!
2. Recognition
Give your blog contributors rock star treatment with praise and special accolades. Recognize them in internal communications, and promote their posts via all company social media pages.
Tag their personal profile on Twitter and LinkedIn, as well as any pages they have on Facebook, LinkedIn, or other social sites.
3. Persistence
If there is anyone who seems even the least bit willing or interested, keep asking, even if they don't produce anything right away. It's easy for people to get distracted or lose confidence after the initial commitment.
Create an online calendar so everyone can access the updated schedule of topics and timelines. This will make it easier for the writers to plan their time, and for you to follow up with contributors as needed.
Keep track of what people say they will do and when, and mark down in your own calendar to check back.
4. Coaching
It may be really scary for some of your practitioners to put themselves out there on the clinic blog. After all, blog posts live online forever. Support and encourage them by validating their expertise and your confidence in them.
Find other wellness clinic blogs to model your own after, and discuss as a team what you like (or dislike) about what they're doing.
Most importantly, lead by example with your own consistent blogging habit. Include yourself on the schedule and do your best to get your own posts done on time.
5. Tools
There are many tools you can offer to make blog writing easier for your team of wellness practitioners, such as:
With awareness, recognition, persistence, coaching and tools, you can mobilize your wellness clinic team to produce a thriving blog that attracts new clients and showcases your unique expertise.
P.S. If you liked this post, you might enjoy the Blogging Tips newsletter, delivered weekly to your inbox! Sign up here.