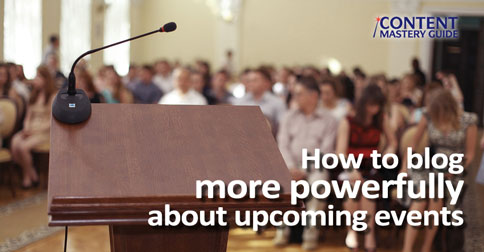 A blog must do more than just promote your business. The true power of business blogging is the ability it gives you to educate, inform, entertain and inspire your audience.
But can your blog do all those things? Yes, absolutely, and it should! An effective call to action (CTA) was one of the three criteria Social Fresh used to choose the top blogs of 2014.
Since a blog has dates, it's a natural place to promote upcoming events at your business, clinic or studio. You might even dedicate an entire post to describing the event, its presenters, location, and other features and benefits.
But what if you could write about your event in additional posts, in a non-promotional way that still gets people thinking about your event, and excited about attending?
In my signature presentation How to Write Your First Four Business Blog Posts, I identify four types of posts you can use to make blogging easier, week after week. The basic premise is that not all of your posts need to be feature-length articles such as a how-to post.
In fact, if you can write just one of those every month (and I know you can), you can fill in the other weeks with a variety of posts that may be shorter and easier for you to put together.
Let's look at each of the four types of posts, specifically how to use them to promote an upcoming event.
The how-to post
Here you can offer your readers a DIY version of what you're presenting at the event – or even a small portion of it.
Why would someone come to the event when you've given them what they need to accomplish the same results on their own? As Andrea Lee once pointed out, why would someone buy a concert ticket when you can just listen to a CD? For a completely different experience!
At the event people will get direct time with you, camaraderie and support from a group of people with similar goals, time away from their regular life to focus their attention on the topic, and much more.
Getting a solo introduction to the material in a blog post can fuel their interest and can also show them why and how they need more help and resources to get the full effect.
The personal post
Pull back the curtain and share your own reasons for putting on this event. Why are you passionate about getting people together to experience this? What are your personal and professional goals for the event?
What are some of the steps you've gone through in planning and implementing the event? Were there any bumps along the way that could be used as lessons – either directly or as an analogy?
The curated post
Browse your trusted sources from around the web for useful resources to prepare for the event, as well as entertaining and/or educational videos about the topic.
You can provide links to text-based blog posts, along with a quote and/or a summary that includes your commentary on why you chose to share this resource and why you think it will be valuable to your reader.
For more visual interest and interaction, you can also embed content such as infographics, YouTube videos, SlideShare presentations, or audio podcasts right into your blog post.
The spotlight post
Who are some of the other people involved in the event, such as speakers, vendors or other partners? Introduce them to attendees and prospective attendees in an interview or guest post. They may also have their own original content that could be repurposed or embedded into as a blog post on your site.
The richest source of enthusiasm about your event may come from attendees themselves. Who participated in a previous event and is coming back for more? Who is attending their first event and why are they so excited to do so? What unique experiences and perspectives do they bring, and what are they hoping to take away?
If you have an event coming up, don't limit your blogging to just promotional posts! Draw your readers in with a rich mixture of blog posts that inspire them to be part of what you're planning.
P.S. If you liked this post, you might enjoy the Blogging Tips newsletter, delivered weekly to your inbox! Sign up here.