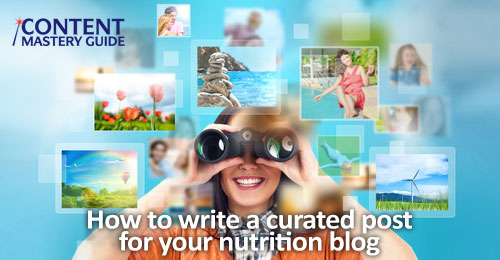 Blogging is a very effective marketing tool for wellness services such as nutritional consulting. Prospective clients need to see that you have the knowledge to help them, plus a style and approach they can work with and trust.
Yet it's not very likely someone will hire you the minute they discover your blog, which is why you need to keep publishing new content on a regular basis. Does that mean you have to slave over a comprehensive full-length article every week? Absolutely not!
This is the third article in a series about four different types of posts you can cycle between on your blog, some of which will be much faster and easier for you to finish.
The first type we covered was the how-to post, where you do go into more depth with concrete information that allows your readers to take action. Next, we talked about how writing a more personal post will help distinguish you from the sea of nutritionists out there.
Today, we'll look at how to harness the efforts of those other nutritionists or related experts with something called a curated post. A curated blog post is one that is centred around someone else's content, such as a blog post, video, infographic or slideshow.
How to choose the best content to share
Just like when you're planning your own topics, be on the lookout for content that fits the focus of your blog and the interests of your readers.
Be very selective here. Anything you share implies your endorsement, not just of this item, but its creator. Take the time to carefully review a few of the author's other posts, their About page, and their social media profiles.
To find quality content more quickly, build a list of respected colleagues who often publish valuable blog posts, videos, or links to other gems from around the web. Schedule regular times to check their blogs and social media pages to find the newest content they've created or shared.
How to share content the right way
To respect copyright laws and the original creator's hard work, never copy and paste someone else's text into your own blog (or their images, for that matter). You can use a sentence or two as a quote, but then link to the original.
Always use the "permalink" (permanent link) assigned to that specific page. You can usually find the permalink by clicking on the title on a blog post. The permalink will be something like this: http://ionc.org/2015/12/how-to-start-a-blog-for-your-nutrition-business/ versus a link like this: http://ionc.org/blog/.
An exception is when you embed content into your blog so your visitor can view it right from your site. You do this by pasting in a special code provided by the original creator. Click these links to learn more about how to embed a SlideShare presentation, how to embed a YouTube video, or how to embed an infographic into a WordPress blog.
How to write a curated blog post
You always want to add your own text before and after the link or the embedded content. Ideally, you'll have at least one paragraph at the beginning of your post, and another at the end. At about 200-250 words, this is way less writing than you might do for a how-to post or a personal post!
As an introduction, write a little about why you chose to share this resource and how you think it will be valuable to your reader. This is your opportunity to demonstrate your own knowledge and expertise, and express your unique personality.
You can offer a short bio of the author, explain how you're connected with this person or how you discovered them, or provide a brief description of their company and what they do.
At the end of the post, ask what your reader thought of the content, or how they will implement the information. Then ask them to stay connected with you, whether that's to read a related post, visit you on social media, subscribe to your email updates, or contact you with comments or questions.
A curated post is an excellent way to connect with other experts, and most of all to keep sharing valuable information with your readers and prospective clients.
P.S. If you liked this post, you might enjoy the Blogging Tips newsletter, delivered weekly to your inbox! Sign up here.