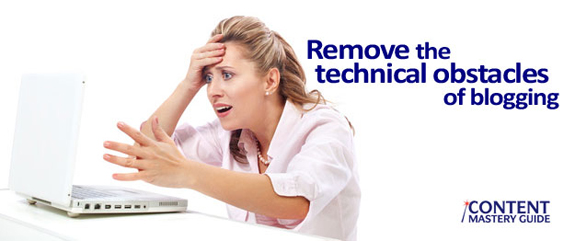 Even people who are accomplished writers and influential leaders in their fields sometimes feel intimidated by business blogging. There is a lot of confusion about the term, and the mechanics of posting and promoting can be another hurdle to jump.
If you know you have valuable ideas to share, but you're getting stonewalled by technology, here are seven ways to step away from the computer and still post regularly to your business blog:
Mental blogging – In a previous post, I described a process of mental writing you can do anywhere, anytime. The key is to have a plan in place, so you can let your thoughts drift naturally to your blogging topics even while you're doing other things.
Working with pen and paper – Whether you're a graphic thinker who uses mind mapping, a list maker, a long-form journal writer, or some combination, take your blogging off-screen to unleash your creativity without any digital distractions.
Catching ideas on the fly – Just because you're away from your computer or other devices, doesn't mean you can't make progress on your business blogging. Use a notepad, journal, or a small slip of paper to record your thoughts; write on the back of a receipt or a napkin if you have no other options!
Getting out into the world – In The Artist's Way, Julia Cameron recommends taking your inner artist out for a date where you can fully immerse yourself in creative thinking. You can use the same premise to schedule blogging dates, visiting the people and surroundings that most inspire you and fuel your excitement for your business and the topics your ideal customers care about.
Asking real people real questions – Since the best blog post ideas come from customer questions, that means that when you're clocking face time at a networking event, client meeting, seminar, or even a personal outing, you can be working on future blog posts. Find out what matters to your customers and prospective customers, then address those issues on your blog.
Reading – Books, magazines and blog posts all offer unique opportunities to learn, grow your awareness, expand your vocabulary, and make new connections – especially when you venture beyond your own industry. As a bonus, you can share some of this content with your audience as a way of being more visible on social media.
Outsourcing – Is there a better way for you to be spending your time than fussing with the technical aspects of publishing and promoting blog posts? Is your time worth more than what you will pay someone else to do those things? Even for those of us who do enjoy technical challenges, it can sometimes turn into a sneaky form of procrastination.
Have you been letting the technical elements of blogging stall your progress? See what happens when you remove this barrier to your unique expertise, by trying a low-tech approach to business blogging.