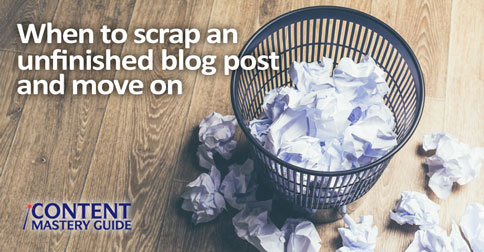 Most of us have a limited amount of time for blogging. That's why it can be so frustrating to keep coming back to the same unfinished post, but feel like we're not making any progress.
Just because a post is in your blogging plan, doesn't mean you have to publish it at all costs. Plans are meant to be flexible, and some posts were not meant to be written – at least not by you.
Here are 12 signs it may be time to let go of a blog post and move on:
1. It's not aligned with your blog's categories
Your categories show readers what your business is known for and what they can expect from you. It may be a great idea, but if a post goes beyond the scope of the categories defined in your blogging plan, leave it out. The next time you review your plan, consider adding the topic.
2. It's too personal
A business blog is not the place to discuss personal issues, unless you've found a creative way to use your stories to make a business point. Is this something better suited for your personal Facebook page, a private message to a friend, or your own journal?
3. The topic has no value for your ideal customers
While a topic may be fascinating to you (especially if it's personal – see #2), this can sometimes cloud your judgment about what will be most interesting to your audience. Try on those readers' shoes and consider what they want to be reading about on your blog.
4. You avoid working on it
Sometimes procrastination is an important message from a source of wisdom deep within each of us, that the thing we're resisting is not the right thing for us to be doing. Honestly consider if that's the case, or if you're just taking the easy way out.
5. You've lost interest
Even if the topic is relevant to your business and aligned with your categories, it may not be something you're jazzed about anymore. The farther out you plan your blogging calendar, the more likely this is to happen.
6. It's no longer relevant
Similarly, if you planned a topic months ago, it may simply be old news at this point, or you may even have discovered new information that negates the premise of your planned post.
7. You found something better
Sometimes doing the research for a post can yield new ideas for topics that are more timely, relevant and exciting to you than the one you started. Go with the excitement because that's where you'll do your best writing.
8. Someone scooped the topic
While it's perfectly okay – and effective – to put your own slant on a widely-covered topic, if you travel in the same circles as another expert and their post is almost a duplicate of what you're working on, take it back to the drawing board and find another angle. Or you might want to simply write a paragraph or two about why you find the topic so relevant, and then post a link to your colleague's post (this is called a curated blog post).
9. It's too promotional
The primary purpose of your blog is to provide valuable information and ask nothing in return. Once you've delivered that, you can guide readers towards a relevant offer with a smart call-to-action that takes them to another section of your website.
10. It's unnecessary
If you find yourself apologizing for not blogging, explaining why you haven't been blogging, or publicly re-committing to a new blogging schedule, STOP and scrap that post! These types of messages take away from your credibility. The best way to show that you're serious about delivering value with your blog is to do it – consistently.
11. It's not a post you should be writing
If this topic is an extension of your main subject matter, consider finding another expert to interview or write a guest post. This is a genuinely win-win situation, as your guest gets exposure to a new audience and will likely promote the post to their own audience as well. You also demonstrate your collaborative mindset, and show that you're well-connected in your industry.
12. It has a short shelf life
News that will be quickly outdated or irrelevant may be better delivered in another format such as email, social media and/or a static website page you can take down or hide later. You can also create a special News category that is displayed in a separate area of the site and not on your main blog archives page.
Has an unfinished blog post ever stalled your online marketing efforts or soured your enthusiasm for blogging? Which of these 12 scenarios do you suspect was the culprit?
P.S. If you liked this post, you might enjoy the Blogging Tips newsletter, delivered weekly to your inbox! Sign up here.