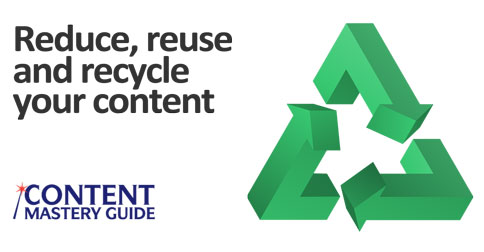 Some of my older blog posts have been getting a new life lately. Thanks to Denise Wakeman and her online visibility challenge, I'm now building new content collections on Medium and Facebook, and I'm continuing to repurpose my blog posts on LinkedIn.
Repurposing or reusing blog posts is one way to be more efficient with your content marketing. Let's look at how you can take all three Rs of environmental stewardship and apply them to your blogging strategy.
Reduce – While I've long recommended daily blogging (not in the way you might think) and weekly posting, when you include the other Rs (reuse and recycle) in your content marketing plan you can actually write less and get much more return on your investment of time and energy.

Reuse – When I reuse and repurpose my archived posts on other platforms, new people can discover, read and share my work even if I haven't published at Content Mastery Guide. That's comforting if I've had an accidental break from blogging. And as I wrote in this post about LinkedIn blogging, Denise reassures us that we don't have to worry about duplicate content.
Recycle – Just like discarded bottles can be used to create new bottles or even new houses, your blog posts can turn into e-books, presentations, videos or countless other pieces of content, or more new blog posts.
In Why Multiple Tweets About Your Blog Post Are Not Bothering Anyone, I explained why it's okay to repeat yourself on social media. I'm going to recycle some of those points here to explain why it's also okay to repurpose your blog posts on other platforms.
People may have missed the post on your blog

. Even if you promoted it widely, your connections may not have seen or read the original post. Most people only see a small percentage of what their connections post on social media, because other updates come along to push your post down and eventually off the page.

People scan for what's interesting and important to them

. Sometimes changing the blog post title a bit when reposting to a new platform is just enough to spark interest in someone who glossed over your original message.

People forget things

. Even if they read it once and found it useful, they've read many things since then. People in your target audience will appreciate the reminder and the renewed incentive to take action and apply your advice.

People know other people who need you

. Your connections may not be members of your target market, and may never click on a single link you share. However, by seeing your posts they begin to associate you with

the key topics you're blogging about

. They'll remember this

when someone asks for a referral

for what you do.

People have their favourite hangouts

.

For example, someone who spends an hour a day on LinkedIn is more likely to see your post than someone who just pops in once a week to respond to invitations. Another key benefit to repurposing your posts on other platforms is that new people who hang out on those platforms can discover you when their connections like and share your work.
When deciding which posts to reuse, start by analyzing your website and social media traffic to highlight your most popular articles. If people are already responding to them, you know it's worth giving them a wider audience.
P.S. If you liked this post, you might enjoy the Blogging Tips newsletter, delivered weekly to your inbox! Sign up here.