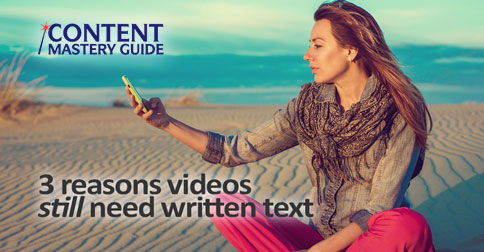 Some people just don't like writing. Maybe you're one of them. And when you hear that Facebook rewards video with more views, YouTube is the world's second-largest search engine, and the opinion that "no one reads anything online anymore," it's tempting to throw away your keyboard completely.
I totally get it, really I do, but please don't do this!
Here are three reasons why making videos does not let you off the hook from writing:
Reason #1: Writing helps you speak better
Whether you do a formal script, a general outline or storyboard, a list of bullet points, or simply a calendar of planned topics, writing ideas before you start filming gives you and your audience more confidence in your content.
You'll create higher-quality content that stays true to your topic areas and has a bigger impact on the people you're trying to help.
Reason #2: Writing serves the people who need to read
Some of your audience members may have auditory or visual impairments, internet access issues, or workplace restrictions that make it impossible to watch your videos. Captions and titles can help, but only to a point.
Then there are those like me, who simply prefer to learn by reading, not watching or listening. A vague title and a play button are not enough to compel me to watch – I need a clear idea of:
What you're covering (a descriptive title and explanation)

Why it's important to me (why not knowing this information could impact me)

What I'll get out of watching (highlights and benefits)
Reason #3: Writing helps people and search engines find you
On YouTube

: Marcus Sheridan of The Sales Lion suggests your

YouTube meta-description

should always start with a question ("Are you wondering about…?") and finish with a tease ("If so, this article will help explain and show you…."). Use the same words your clients would use (keywords). Make sure you keep your first couple of lines under 150 characters, he warns, or Google will cut off your text. Also pay attention to the next three lines of your description, because YouTube will only show the first five lines of your

YouTube description

before viewers must click "Show More."

On social media

: Use a brief version of your YouTube description box to entice your social media contacts to watch your video.

On your blog

: Beyond the first five lines of your YouTube description, expand your blog post text to cover the three items I mentioned above. Give me that reason to watch! Ideally, embed the video right onto your site so I can

stick around

and learn more from you. In some cases, I'd rather just read the content as a

transcript

(hopefully one that's been

edited and enhanced

).
Videos are very popular right now, and for good reason! They can engage your audience and help them get to know you, and can be quick and easy for you to create. It's definitely worth experimenting to see how your audience responds to them. Just don't stop writing completely or you could lose some of your best potential clients.
Want more ideas about how to write high-quality content that has more impact, attracts more ideal clients, and makes you more money? Register for my FREE webinar, Write Less, Earn More.