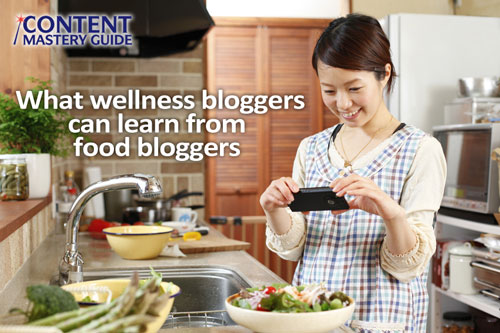 As a wellness blogger, your goal is to keep your readers healthy, and ultimately to attract new clients to choose your clinic. Food bloggers have a whole other set of motives. Here are three ways you can borrow from their approach to improve your own blog:
Free Your Passion
Food bloggers have the liberty to indulge in deep exploration of their passions, wherever that journey takes them. It's similar to how when artists pursue their craft as a hobby, it gives them freedom from the creative constraints that may take over if it becomes a business.
Wellness bloggers, take note: It's easy to get caught up in ROI (return on investment) and how you're going to transform readers into clients. While you definitely want to think about your ideal clients and what they're looking for, if you stray too far from your own expertise and passion you will just dilute your message.
Ideally, the answers your clients are looking for are related to what you're really good at and love to do. Once you've figured out what that is, Michael J. Katz says that doing anything else is just "a self-perpetuating distraction."
So don't get distracted too much by always trying to blog about the "right" things. Invite more passion into your blog and see who is attracted by that.
As an American living in Paris, chef, blogger and author David Lebovitz is clearly passionate about his favourite city and its cuisine. He's been blogging since 2004 and says it is one of the most fulfilling, exciting things that he does. Visit his blog now for an example of a food blogger with passion.
Keep it real
Food bloggers are notorious for revealing the good, bad and ugly of their real-life kitchen adventures. Whether the result is poignant, painful, hilarious or even mundane, it gives the reader an opportunity to feel a little more connected to the human race.
Wellness bloggers, take note: Will you lose your credibility as an expert if you share your personal experience? Not at all. Just remember to strive for a balance between experience and expertise.
If you only share experience, your readers may feel more connected with you on a personal level, but may not think of you when it comes to paying for solutions. If you only share expertise, your readers may respect and revere you, but lose touch if they start to feel lectured to.
When food blogger turned author Lisa Leake decided to overhaul her family's eating habits, she decided to share their process with the world through her blog, 100 Days of Real Food.
She writes honestly about the good, the bad and the ugly of the experience, though always in a very positive way.
Find the story
When you feel free to follow your passions under no pretense of being someone you're not, it opens you up to more fascination and curiosity.
Wellness bloggers, take note: Look for interesting connections you can make between your daily adventures and the solutions your prospective clients are looking for.
Turn those connections into stories that illustrate a helpful lesson for your readers. Just make sure your stories tie into your business message and stay consistent with your brand.
Passionate, award-winning food blogger and author Deb Perelman of The Smitten Kitchen always offers the interesting back story behind her recipes. For example, here's how she turned her husband's love of buffalo wings into a popcorn snack.
Yes, there is a business goal behind your wellness clinic blog, but take a page from these food blogs to infuse some passion, honesty and storytelling into your efforts.
This post was originally published at Build a Better Blog (Denise Wakeman), as a companion piece to What Business Bloggers Can Learn From Journalists.
P.S. If you liked this post, you might enjoy the Blogging Tips newsletter, delivered weekly to your inbox! Sign up here.