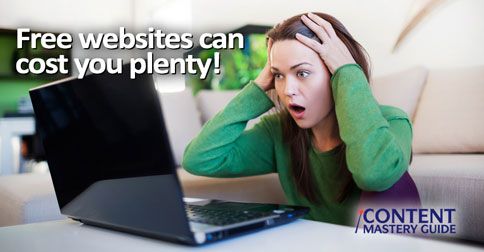 Free, hosted sites like Wix, Weebly and WordPress.com definitely have some advantages. Sites like these are all powered by a CMS (content management system), which allow users to create a site and update the content without any code or technical knowledge.
That means you can quickly publish a website and start promoting your business 24/7.
Unfortunately, these sites also have some serious drawbacks, as was the case for one wellness practitioner I spoke to recently. Her Wix site not only would not integrate with the tools she needed (e.g., her email service provider) and wanted (e.g., recipe plugins), but she learned that in order to upgrade from Wix to WordPress or another platform she would have to manually copy and paste all of her website pages and blog posts, and start from scratch designing a new look for her site.
So even though the site didn't cost any money, it cost her plenty of time and aggravation. As Charlie Gilkey points out, these are real costs. You'll help more people and earn more money by being in front of clients and prospective clients, versus being stuck in front of your computer dealing with website issues.
Free sites can also cost you a lot of credibility. Providers usually hijack your site address with their own brand name (e.g., rememberingchyna.weebly.com), and sometimes place ads on your site.
Playing around with website design is fine for a personal site like my memorial for Chyna, my first greyhound), but not for your business, even if you enjoy tinkering and feel like you have a flare for design.
My advice? Avoid making too many changes to what the designer created. The more you stray from that, the less professional your site may become.
Please note: This article contains affiliate links, which means if you click on the link and purchase an item, I will receive an affiliate commission.
Use WordPress.com – If you MUST use a hosted site
Until I volunteered at the Ladies Learning Code Getting Started With WordPress and Blogging workshop, I thought businesses were discouraged or even prohibited from using WordPress.com for commercial purposes.
Jason Bach of Mosaic Data Services tells me that used to be the case, but hasn't been for many years. While WordPress was originally designed as a publishing platform, they soon realized its greater potential.
I was delighted to learn about WordPress.com's options for small businesses. Yes, they cost a bit of money, and YES it is worth it, and still a tiny fraction of what you'll pay for a self-hosted site! For example, just $3.99/month CAD (as of December 2016) gives you a custom domain name (yoursite.com), and removes all WordPress.com advertising.
WordPress.com has other options that give you more space and customization options, but if you're heading in that direction I'd strongly recommend upgrading to your own self-hosted WordPress site from WordPress.org.
Upgrading to a self-hosted WordPress site
The biggest benefit to choosing WordPress.com as your first website is that when – not if – you're ready to upgrade, you'll already be familiar with the WordPress dashboard, and it's simple to migrate from WordPress.com to WordPress.org.
WordPress is by far the world's most popular CMS. Research by W3Techs shows that as of December 2016, "WordPress is used by 58.5% of all the websites whose content management system we know. This is 27.2% of all websites."
A self-hosted site from WordPress.org gives you more flexibility and customization than a hosted site, and access to premium themes (designs) and plugins (third-party tools like social media sharing buttons, newsletter sign-up boxes, analytics, SEO functions, and many others).
Plus, unlike a hosted site – including WordPress.com – that can be closed down by the provider at any time, you have full control over a self-hosted site.
Beware of free themes and plugins
Free things can cost you with a self-hosted site as well. While WordPress has a well-maintained directory of beautiful and functional free themes for your site, I've run into a few problems with these in the past. First of all, there's the risk that the designer will stop updating the theme (i.e., to comply with WordPress updates), or doesn't offer any support if you try to customize the theme and run into any difficulties.
Another issue is that because so many people seek out free themes, your site may not stand out if people are seeing that same design in other places.
Finally, and this issue applies to plugins as well as themes, there can be big compatibility issues if themes conflict with certain plugins, or if any of your plugins conflict with each other. I definitely recommend asking a web developer before installing themes and plugins. At the very least, search the web for reviews or complaints about compatibility problems or instability.
Premium WordPress themes
I recommend choosing a premium theme that comes with support, such as Elegant Themes (who also offer some plugins). With Elegant Themes, you pay one fee for access to all of their themes. That means you'll have plenty to choose from now, and you can even give your site a facelift later. I've heard particularly good things about the Divi theme.
Website hosts
With a self-hosted site, you'll also need to choose a website host. You can go with SiteGround, one of only two hosts recommended by WordPress, or you can go with a WordPress hosting company like Mosaic Data Services, who offers more personalized service and less competition for server space.
I hope this information will help you avoid some costly mistakes. Your website is your business's home on the web, working for you 24/7. Make sure it's something you can be proud of.
P.S. When someone visits your website, will they find fresh content or a ghost town blog? Keep your blog up to date with the Blogging Tips newsletter, delivered weekly to your inbox! Sign up here.