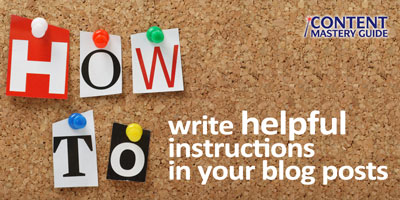 "Youtility is marketing upside down. Instead of marketing that's needed by companies, Youtility is marketing that's wanted by customers. It's massively useful FREE information, that creates long-term trust and kinship between a company and its customers." – Jay Baer
The message was loud and clear at the recent Content Marketing World conference in Cleveland: Quality content can make a real difference if you focus on what you're giving, not what you're hoping to get.
When you teach your readers how to do something, it demonstrates three very important qualities about you and your business:
You

want

to help

You

can

help

There is

more

help where that came from
Unfortunately, confusing or poorly written instructions won't convey those principles.
If you don't deliver the promise that the reader will learn "how to …." whatever you've stated in your title and description, you will only turn away someone who could be a potential customer or referral source.
What do your customers need to know?
To choose the best topics for your how-to posts, answer these questions:
What are the most frequently asked questions you answer in a typical week, either over the phone, by email, or in person?

What common mistakes do you see people making in relation to your

key blogging topics

?

What do you wish your customers already knew how to do when they hired you?
5 tips for writing clear instructions
Limit each list item or sentence to one action

Use a numbered list if the number or order of steps is important; otherwise, use a bullet list

Give your readers an idea of how long each step might take

Separate any commentary about the topic so it's not mixed in with the list of instructions – add it to the introduction or conclusion instead

Test your instructions thoroughly – walk through them several times from your reader's perspective; if you can, find volunteer testers from your target market (give yourself a week or so to collect their feedback and revise your post)
Inspire your readers to act
Whether or not your post outlines specific tasks, you can always provide some actionable steps at the end to help your reader apply their learning, such as:
Rehearsal

: Ask your readers to practice a new behavior, habit or perspective. Suggest how many times per day or week they should do it, and in which specific situation(s).

Documenting

: Ask your readers to keep track of their progress; give them a checklist to mark off their actions or ask them to record it in a journal.

Reporting

: Ask your readers to share their results with you, your community or an accountability partner.
For personal growth topics, consider other options such as reflection (to ponder or consider the new idea and how they might integrate it into their lives) or journaling (to write about the topic using questions or prompts you provide).
When you take the time to write clear instructions, you increase the chances of helping your reader succeed with whatever problem they're trying to solve. After getting such good results from your ideas, they will come back for more. And when they're ready to seek help to go to the next level, they'll have the confidence to choose you.
What's something you've taught a customer or prospective customer how to do? Will you use my tips to put those instructions into a blog post? Send me a link, I can't wait to read it!
---
This post was updated from The Art of Writing Clear Instructions (or How to Tell People What to Do) (Dec 2010). Some of the material was adapted from Chapter 23 of The Customizable Style Guide for Coaches Who Write, which has now been incorporated into the second edition of Write Your Way to More Clients Online.
P.S. If you liked this post, you might enjoy the Blogging Tips newsletter, delivered weekly to your inbox! Sign up here.