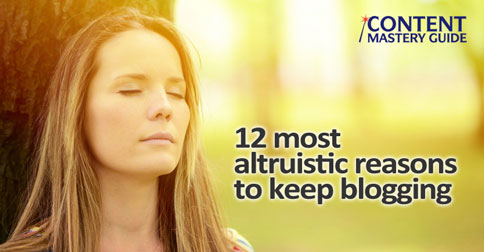 Many wellness practitioners say it's challenging or near impossible to find time in the week to keep up with their blogging. Yet consistency is key when it comes to building trust, visibility and credibility online.
If helping your business grow isn't motivating enough to give blogging your attention, here are 12 ways your blogging can help others:
Blogging is teaching

– Whether you're sharing tips, explaining how your treatment modality works, or telling stories about topics your clients care about, you're giving people information and insights they didn't have before.

Blogging is gratifying

– Because blogs are indexed quickly by search engines, and posts are so easy to

share and promote on social media

, blogging gives people quick and easy access to what they want now.

Blogging can heal

– By teaching others what you know, you're empowering them with tools they can use to address their health issues and improve their lives.

Blogging opens minds

– You have a unique set of ideas, experiences, skills and beliefs. By writing authentically about these and how they relate to

your blog topics

, you never know what new awareness you'll spark in someone else's mind.

Blogging builds trust

– When you use your experience, knowledge and research to present helpful and accurate information, people can rely on your blog as a credible resource for guidance.

Blogging can advocate

– Building credibility through blogging makes you a powerful advocate because people are more likely to listen to an expert – whether you're speaking for those without a voice or advancing your own ideas for change.

Blogging can inspire

– Putting your ideas into the world and being an expert encourages other people to claim their expertise and raise their own voices.

Blogging gives back

– A blog is a great forum for highlighting and promoting the good work being done by charitable organizations in your local or global community, and asking others to support them as well.

Blogging shares the wealth

– By

spotlighting a colleague

, product or service or colleague on your blog, you can give another business the gift of exposure to a wider audience.

Blogging creates community

– When you blog effectively about topics that are interesting and helpful to your ideal customers, it draws those people to you. When your blog turns into a community it becomes a treasured place for people to gather and celebrate passion for an industry, tool, belief or resource.

Blogging is personal

– By responding to all individual comments and questions sent via your blog, social media pages, and email, you're offering a personal touch that so many people are missing these days. Not only is that good for people, it's good for business.

Blogging is good for business

– While you're sharing helpful information, inspiring new ideas and actions, growing a larger audience, advancing worthy causes, building a community, and connecting on a personal level, you'll be attracting the ideal clients (and referrals to them) who resonate with your unique values and mission.
By blogging to create a more successful business, you will generate more resources to make the world a better place.
This post was originally published on the 12 Most site, which was closed in 2016.
P.S. If you liked this post, you might enjoy the Blogging Tips newsletter, delivered weekly to your inbox! Sign up here.