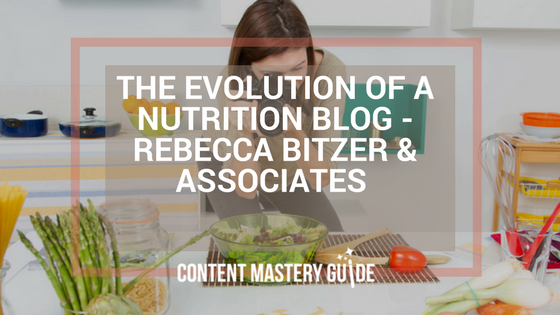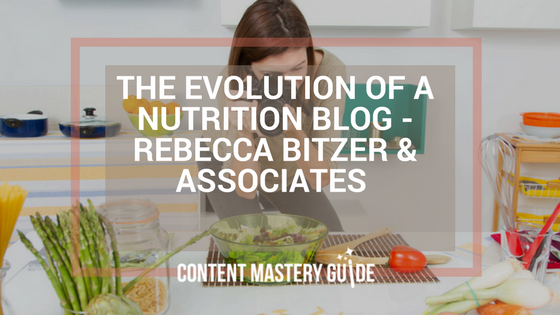 Welcome to Part 2 of a special interview with Rebecca Bitzer of Rebecca Bitzer & Associates: REBEL Dietitians in Maryland. If you missed Part 1, click here to learn why blogging is a priority for her diverse and talented team of registered dietitian nutritionists (RDs).
Why did you first start blogging, and how has your blog changed since then?
At first, we just blogged. Our blog posts were fine, although a bit short and the photos were not great. Over the years, we have continued to raise the bar and have much better content, tips, photos and recipes.
In addition to our 400+ blog posts we have a recipe database that we added to our website last year with over 300 recipes that our team has created.
We also pay more attention to which blog posts are the most popular and try to provide more blog posts on these topics. There is a lot of competition on the internet and we are trying to keep our niche as a team of dietitians who can make life easier in the kitchen when dealing with a chronic condition (or trying to avoid one).

What have been the biggest benefits of continuing to blog so consistently?

Having fresh content keeps our team and our audience inspired, which is key for success. Also, fresh content keeps our audience coming back for more information and it certainly helps Google find us.
We also have an monthly email newsletter that highlights our blog posts, recipe of the month, and special events, which helps keep our followers engaged.
Finally, by continuing to blog consistently, we can address some of the challenges and struggles that our clients are facing in session, and provide resources for them and for the community.
Does anyone help you with the blogging process (anything from writing, editing, research, publishing, promotion), and how?

As I mentioned in Part 1, one of our dietitians is in charge of setting deadlines and themes for each month, and we all encourage each other to meet those goals.
We have taken tons of courses, classes and webinars on blogging. At this point, we are still doing it in-house because we love it and doing it ourselves helps our clients get to know us better.
We are bombarded with people wanting to guest blog for us. We are open to having more guest bloggers, though we are very selective about who writes for our blog and any post must be approved by all before it is published.
We also have interns who help contribute to a blog post which we may enhance, update or repurpose, such as this Thanksgiving post that was written by an intern:
https://rbitzer.com/how-to-lose-weight-while-enjoying-your-favorite-foods-on-thanksgiving/
In terms of promotion, we post our blog post links on Facebook, Instagram, Twitter, Pinterest and LinkedIn. I would say that Facebook and Instagram are our two favorites.
What advice do you have for a new nutrition blogger?
I would encourage new nutrition bloggers to start. Writing about something you are passionate about helps. Also, "better done than perfect" is good to remember. Your blog posts will get stronger over time; it is important to get started and practice writing.
The most challenging thing for many is to carve out enough time to blog. Having a schedule and a deadline helps get blog posts written.
One of the challenges our team has is keeping the blog posts simple; it is much more challenging to write a concise sentence than to write like you are talking. But again, just get started, ignore your perfectionism and remember you have important things to share.
Excellent tips, thank you so much, Rebecca! Keep up the good work, rebels!
P.S. Did you miss Part 1 of this interview? Click here to learn how the REBEL Dietitians keep up with their ambitious blogging schedule, and much more!
Ready to raise the bar on your own wellness clinic blog? Let's look it over together! Join me for a free, no-obligation blog review session. Click here to schedule a time.