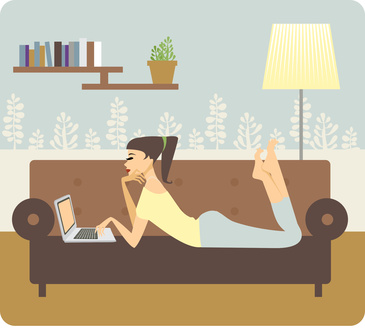 Blogging is the cover story of the July/August 2015 issue of The Costco Connection, with a slant towards what I call passion bloggers. I've written before about what small business bloggers can learn from passion bloggers, and it's great to have fresh examples from six Canadian women with successful blogs.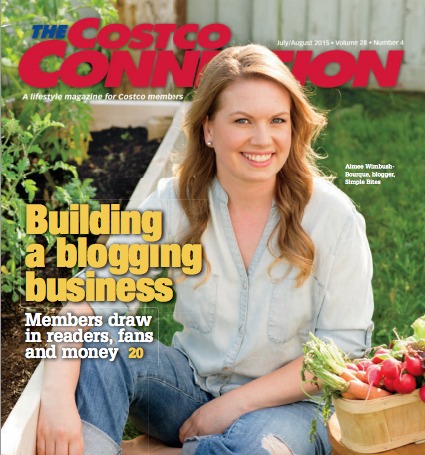 I'll introduce them in a moment, but first I want to clarify one point from the article where I'm quoted as saying that "ads are one of the hallmarks of a successful blog."
Before you rush off and clutter your blog with Google ads, affiliate links, and multiple ads for your own products and services, please note that we were talking about third-party advertisers, sponsors or patrons.
As it states earlier in the article, "Before a company places an ad on a blog, they need to know [the blog's] readers are engaged." That's why if you see a blog with sponsors and advertisers, it usually means the site has already demonstrated some success.
Advertisers are crucial for sustaining passion blogs (and their bloggers) over the long term, yet it's important that bloggers are transparent about their relationships with advertisers and sponsors.
Karen Bertelsen from The Art of Doing Stuff (and she does a LOT of different stuff!) showcases her advertisers in a way that also brings value to her readers. She notes in a post, "As much as I love this blog I wouldn't be spending 12 hours a day doing it if I didn't make any money."
Quiet Fish's Andrea Tomkins also introduces her blog's patrons in a thoughtful way. Tomkins has been blogging since 1999 about family, food and life, which has generated awards, readers and a part-time income.
Cendrine Marrouat, a blog writer and social media consultant, wrote about how excited she was when the magazine landed on her doorstep. Just one of many things she and I have in common! Check out her savvy blogging and social media tips.
Chef, food blogger (Simple Bites) and cookbook author Aimée Wimbush-Bourque focuses on bringing families together around the table. If you're feeling patriotic, check out her Bloody Caesar Shrimp Salad for Canada Day.
Jane Macdougall's passion is pedestrian safety. She launched the Pedviz blog as a way to share the research she'd collected after her sister-in-law was struck in a crosswalk by a hit-and-run driver.
Lori Godin, the Frugal Edmonton Mama, disclosed some specifics of her blogging success – she's attracted 100,000 readers and earns $3,000 per month from sponsors like Proctor & Gamble, Netflix and Mattel. You can read exactly how businesses partner with her.
Lori echoed my own thoughts about the importance for all bloggers to "be authentic and find your voice."

Thanks to The Costco Connection for continuing to cover the topic of blogging, writer Allison Lawlor and the other profile writers for bringing the story to life, and to all the bloggers for sharing your inspiring journeys.
Read "Building a Blogging Business" in The Costco Connection.
P.S. If you liked this post, you might enjoy the Blogging Tips newsletter, delivered weekly to your inbox! Sign up here.