If you want to receive all of my latest posts by email, click here to subscribe to the Blogging Tips newsletter.
---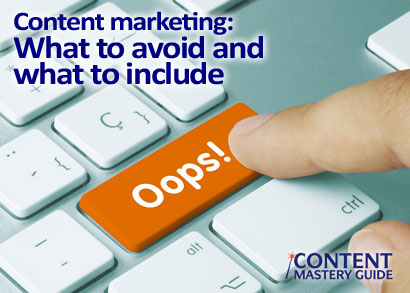 Business blogging is a marketing tool that relies on effective communication with your prospective customers and referral sources. Yet too many business owners forget about their audience the minute they put their fingers on the keyboard to write a blog post.
Of all the missteps I see from businesses who blog, there are two that stand out as the biggest offenders. Understanding and avoiding these will set you up with a foundation for success.
For more details, read my latest post on LinkedIn: Business Bloggers, That's Enough About You
---
Of course blogging is only one element of the broader industry known as content marketing, which has many subtle and complex layers. That means the potential is huge, but so is the confusion.
A recent post for the ClockEdge website posed this question to 15 content marketing professionals: "What are the top 3 beginner content marketing mistakes?"
Read my answer, along with many excellent insights from 14 other content marketers: 15 Experts Share the Top 3 Beginner Content Marketing Mistakes
---
I had the pleasure of sitting down for two podcast interviews at the beginning of March – one with a long-time friend and one with a new friend.
I don't remember exactly when I first met Jeff Korhan, but I do know we both had our sites set up in Typepad at the time because that was our initial point of connection. Jeff moved his site to WordPress in May 2011 and Content Mastery Guide moved in 2013, so it's definitely been a few years!
Jeff is the author of Built-In Social: Essential Social Marketing Practices for Every Small Business. His podcast, Old New Business, is about adapting traditional sales and marketing practices to a digital, social, and global world.
Jeff's message to business owners is that whatever got you here will get you where you want to go, as long as you adapt your strengths to the digital marketing methods that work today.
Listen to my conversation with Jeff: Business Blogging: How to Build Trust and Gain Customers
---
Tropical Entrepreneur is a daily business podcast with the mission to help a million people escape the status quo, build a location independent business and live a creatively fulfilling lifestyle of service by their own design.
My first question for host Josh Denning when he invited me to be a guest was whether I qualified, with the frigid temperatures we were having in Barrie that week. He assured me that I did, and promised that the fun conversation would warm me up.
He was true to his word – we had a lot of fun talking about all things business blogging. So much so that we scheduled a second interview for his other podcast about how businesses can gain authority online.
Listen to my Tropical Entrepreneur interview: Making Business Blogging Easy