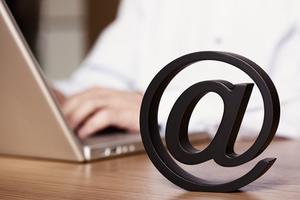 "Is a blog the same thing as a newsletter?"
Great question! It came up recently from a business owner who is brand new to online marketing, and I heard a similar question this weekend at WordCamp Toronto 2013:
"Where will I find the time to do a blog AND a newsletter, while still running my business? I don't want to just send the same content."
Rushing in with an enthusiastic response, panelist Austin Gunter from WPEngine explained that you absolutely can and should repeat your blog post in your newsletter. (You can even automate this process using RSS-to-email subscriptions!)
The truth is that people will not remember to visit your blog regularly. That's why it's such a good practice to share links to your blog posts on social media. Yet while social media builds visibility, trust and relationships, Austin said it's not nearly as effective as your email newsletter for inspiring people to buy something from you.
"Once someone has invited you into their Inbox, that's power!"
Just as blogging is a perfect companion to social networking, newsletters and blogs can work hand in hand to attract your ideal customers, show them how you can help, and make it easy for them to do business with you.
In order to put these strategies into place, you'll need:
A business blog, ideally one that's part of your company website
A subscription to an email broadcasting service such as MailChimp (affiliate link), AWeber (affiliate link), iContact or Constant Contact
An email subscription form in the sidebar of your blog, and ideally on every page of your company website
Bonus: A highly relevant report, white paper or e-book that people receive automatically after subscribing to your email list
Attract your ideal customers
If you understand who your ideal customers are, what challenges they have, and what solutions they're looking for, you can create blog posts that attract them. These could be "how to" posts that solve an immediate problem, or deeper thought pieces that help them better understand their issues.
In your newsletter, poll your readers occasionally for more information about who they are and what they need. It's a nice touch to send some of these questions automatically whenever someone new signs up for your newsletter. Ask your email service provider about automated follow up messages (autoresponders) – then be sure someone is monitoring the email address you've designated for replies to your broadcast messages.
This lets people know that you welcome them, you care about them, and you're interested in providing content that meets their needs. The benefit for you is that you're more likely to get positive responses to your content because you'll be writing exactly what people want to read.
Show them how you can help

Aside from the testimonials or longer case studies you may have elsewhere on your site, blog posts that tell client stories give concrete examples of how you work and the results your company has achieved with others.
As well, "connective" blog content (e.g., reviews, links and commentary) positions you as a valuable resource and demonstrates your connectedness in the industry.
In your newsletter, you can mention some of the services, courses, products or special offers that relate to the blog content you've shared. You can also list upcoming events where your company is presenting or exhibiting, to highlight your expertise and industry leadership.
Make it easy for them to do business with you
By consistently posting high-quality and relevant content on your blog, you're building trust as someone who understands and can help with the specific issues facing your ideal customers. That trust makes it easy to say yes when they see your next offer.
Use your blog's sidebar to rotate featured products and services, with direct links to take action. At the bottom of each post, create opportunities for a deeper relationship with your company, for example:
Here's a related post about this topic (tip: you can display related posts automatically – learn more in this post about how to encourage longer blog visits)
If you enjoyed this post, subscribe now to receive our newest articles by email
Download our free report to learn more about this topic
You can also try more direct calls to action (e.g., find out more about this product/service or schedule an appointment today), though I'd recommend you do this less often. Your blog readers will be in all stages of the relationship-building process, and you could turn off your newest blog visitors by asking for business too soon or too often.
Instead, take Austin's advice and use your newsletter for selling, after you've given value with the informative content from your blog.
Make it easy by providing direct links to registration/purchase pages or to schedule an appointment with you. A huge benefit of email marketing is that it's simple for anyone to take the next step by replying. Some of your customers may not be comfortable with online contact forms or e-commerce options, but almost everyone can reply to an email.
Customize the "From" field people will see in their Inbox, preferably with the personal name and/or department name of the person or people who will be responding to messages. As I mentioned above, be sure to monitor that email address regularly, especially in the minutes, hours and days following an email broadcast.
Your blog isn't the same thing as your newsletter, but you can use the same content in both places to attract your ideal audience and convert them from readers into customers.
P.S. I'll be discussing business blogging strategies on Your Business With Charmaine Huber this Wednesday, October 9, 2013 at 7:00 p.m. (Rogers TV). Her other guest will be an email marketing specialist, so I'm sure we'll be discussing many of these concepts. If you're in the Barrie area, please tune in!