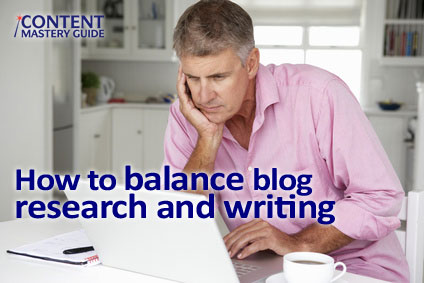 In a recent SteamFeed interview, Darin L. Hammond wrote that research strengthens the quality of your blog posts because it "shows your readers that you have done your homework, you thoroughly understand the topic, and you are writing something new in the context of the information already written."
Aside from the research tips he generously shared on SteamFeed, I wanted to know how Darin structures his research time to keep himself from falling down any rabbit holes or losing focus on his writing.
Here are his research productivity secrets:
"Given the reality of writing daily on a blog, it is unrealistic to require too much researching. Many times I fall in love with the ideas and over-research, which can be a form of procrastination. I put off writing, telling myself that I am working on it by doing further research.
The boundaries I try to stick to include:
Research until you become familiar with your topic, keeping track of the sites you visit in case you want to cite or link to them in your writing.
Research until you have enough outside research to help your reader dig deeper into the topic.
Research until you hit the limit you have set for yourself. I like to spend 30-60 minutes. Sometimes I have some extra time and use it for more research, but in general it's good to set firm time boundaries.
Keep asking yourself the questions: Am I focused on the needs of my topic and readers, or am I indulging myself in extra reading? Do I need to tighten up my focus because I'm on a research tangent?
Review your thesis or focus statement and decide if you are on track. Having an outline can help you stay focused. Ask yourself where this research fits in your post outline, and if it doesn't, then stop your research. If you research too much in areas that are not in your focus, it will actually hurt your writing – making you more vague and general."
It sounds like self-honesty is just as important in research as it is in other part of the blogging process.
In my own blogging practice, I try to separate writing from research, ideally closing my web browser so I'm not distracted or tempted away from the task at hand.
When it comes time for research, though, there are times when I'm browsing content for a client project that might relate to one of my own posts, or vice versa. I asked Darin how he keeps track of research he may stumble upon while working on other things.
"Evernote is my go to resource for clipping and saving entire articles including the website address, and for organizing my research.
I also look to Chrome Google extensions for a variety of useful online research apps including Rizzoma, a research tool that keeps track of sites, clips, and relevant search results. It is very handy because it is a sidebar you can access anytime while you read.
Darin, thanks for these tips to help us stay focused, while still using research to enrich our blog posts with valuable supporting content.
---
Darin L. Hammond, Content Strategist and Founder of ZipMinis