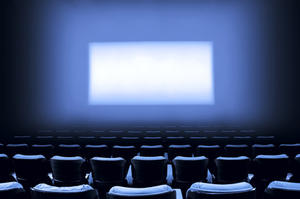 While people are generating leads on all of the social media sites, LinkedIn is the #1 choice for business networking and business-to-business marketing. According to the 2013 Social Media Marketing Industry Report by Social Media Examiner, 70% of marketers surveyed are using LinkedIn, and 64% plan to increase their use of the site.
In this blog post series about how social media and blogging work together, we're looking at how blogging helps you make a valuable contribution to your social media communities in three different ways. Today we'll apply these to LinkedIn.
Expand your mind
Expand your relationships
Expand your influence
How to expand your mind with LinkedIn
LinkedIn saw how important blog posts were for sharing information, so they created their own blogging platform right on the site. You can browse through posts written by more than 250 business giants hand-picked by LinkedIn to be their "Influencers." You'll see these posts displayed as soon as you log into the site and there are always many interesting titles to choose from.
Influencer posts are great pieces of content to share with your network, since the experts have already been pre-selected by LinkedIn based on the quality of their work and ideas. Being associated with this premium content makes you look good. As a bonus, you'll be expanding your mind with new ideas for your own blog posts, business, and life.
---
Action: You can choose to follow specific Influencers, or LinkedIn channels that gather blog posts into similar themes and feed those to your Home screen. To customize your reading experience, look for the "Interests" tab on the LinkedIn menu, and then choose "Influencers" from the drop-down options.
---
How to expand your relationships on LinkedIn
Take time regularly to browse through your activity stream to see the content people in your network have posted or shared. Show them you appreciate their contributions by liking, commenting about or sharing these posts.
Notice also who else has liked, commented on or shared a post that interests you. This is a great opportunity to grow your network by discovering new people with inspiring, helpful and like-minded ideas.
Other people may discover you the same way, either by noticing your comments or what you've liked, or by seeing when one of your mutual contacts likes something you've posted.
LinkedIn also tries to help you grow your network with its "People You May Know" feature for its desktop and mobile applications. However, the huge drawback here is that you do not have the opportunity to personalize the invitation (see action tip below).
---
Action: When LinkedIn suggests someone you might know, click on the person's name to open their profile page, and then use the "Connect" button to send your personalized invitation. In your note, mention what (and who) you have in common.
Gmail users, try this: Rapportive is a Gmail add-on that works in Firefox, Safari, Mailplane and Chrome. When you're emailing someone to follow up a conversation from an event, Rapportive allows you to send a personalized LinkedIn invitation at the very same time! This is a seamless way to take your offline relationships online.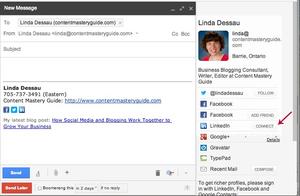 ---
Expand your influence on LinkedIn
Blog posts give you the opportunity to provide value by sharing helpful information with those in your LinkedIn network. In turn, this demonstrates your expertise and helps remind them what you do in your business.
---
Action: You can easily share relevant content – whether your own or someone else's – with the LinkedIn Bookmarklet. Here's how to install it:
From any page in LinkedIn EXCEPT the Home page, scroll to the bottom until you see the navigation menu in the footer of the page.
Click on the word Tools.
Once you're on the Tools page, click on the words "Sharing Bookmarklet" near the top of the screen.
On the next page, you'll find instructions for how to add the icon to your browser so you can click on it to share a blog post or webpage you're viewing.
For most browsers it's as simple as drag and drop. If you're using Internet Explorer, there are a couple of steps but they're explained clearly on this page.
You can also insert the link of the blog post right into the update box on the LinkedIn site, but you must use the permalink (here is how to find the permalink of a blog post).
---
LinkedIn offers a wealth of resources for gaining knowledge, connections and business. By finding and sharing valuable content with existing and new contacts, you can add value to their lives and businesses, and increase your credibility as an expert in your field. Ultimately, it will be your own well-written and relevant blog posts that will be most effective at expanding your influence on LinkedIn.
---
Enjoying this series about social media and blogging? Check out the other posts here. You can also find my post about using Twitter for business at Social Media Today.