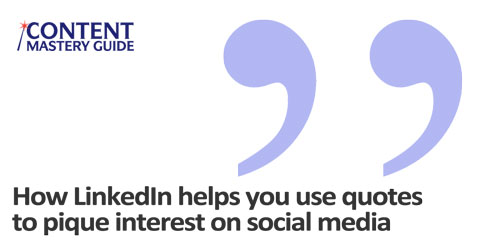 While researching an upcoming blog post, I discovered a new LinkedIn feature that makes it easier to share great content with your network.
As I highlighted a sentence I wanted to quote in my post, I spotted an arrow that appeared in the margin.

When I clicked on the arrow, two options appeared:

When I clicked the first option, the LinkedIn sharing box appeared, pre-populated with the quote and the author's name. The author's name was also automatically tagged, so if I were to share the quote she would be notified (this is a great way to make new connections!).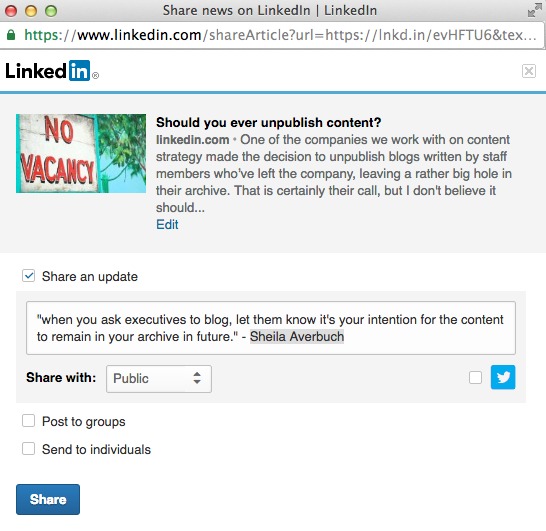 I have the option to edit the text, so I would capitalize the word "when" at the beginning of the sentence. I also sometimes edit the blog post summary (next to the photo), making sure to stay within the character limit so there are no partial sentences.
When I clicked the other option, it launched a Twitter compose box, again pre-populated with the quote, as well as the author's Twitter handle. NOTE: If the person hasn't filled in their Twitter handle on their LinkedIn contact details, it will just say "on @LinkedIn."

You can see that in this case I chose a shorter quote to stay within Twitter's 140-character limit. Here I would also edit by capitalizing the first word of the sentence, and replacing the double quotation marks around that word with single quotation marks (since the entire sentence is surrounded by double quotes).
(Buffer users may recognize this feature from the Buffer browser extension, which behaves the same way if you highlight text on a website and then click the Buffer icon on your toolbar. But you have to manually find and enter the Twitter handle, and you cannot tag someone on LinkedIn through Buffer.)
Creating original content is important, but so is introducing your audience to new resources and ideas. You want to become their go-to source for the most timely and relevant information about your industry. Kudos to LinkedIn on a great new content sharing feature!
P.S. If you liked this post, you might enjoy the Blogging Tips newsletter, delivered weekly to your inbox! Sign up here.