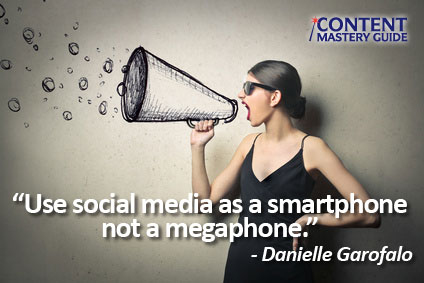 I recently attended the 11th Tweetstock social media conference at the Hamilton Public Library (Hamilton, Ontario). It was my third time at this social media event and once again I found a like-minded group and many tweetable lessons about marketing and business success.
I pulled my takeaways into five core themes and gathered those tweets into a slideshow (enclosed below). For now, let's look at how these concepts can help you as a business blogger:
Know yourself
Always understand what is the highest and best use of your time – hire others to do the rest @LeighJSherry #tweetss15

— Linda Dessau (@lindadessau) June 18, 2015
What are your strengths as a blogger? Love to talk about your ideas? Combine podcasts and video posts with written ones. Record your thoughts and use a dictation app or transcription service to turn them into written posts. Or use a ghostblogger.
What are your limitations as a blogger? Sam Fiorella talked about the importance of consistency in activating an audience for an initiative or a business. Determine how often you'll be able to blog, and then stick to that.
(I know as well as anyone that none of us can be perfect with this. A blogging schedule can be the first thing to go when competing priorities arise.)
Give yourself room to grow. Even if you aspire to weekly blogging, start with every other week or even once a month. Still aim to write every day and finish one post a week. Then you'll have a reserve of posts to draw from if inspiration wanes or your schedule heats up.
Speaking of blogging frequency, you can also take a page from Julie Cole of Mabel's Labels:
.@juliecole blogs once every 2 weeks for her Mabelhood blog, then sucks the SEO juice out of each post #tweetss15 — Linda Dessau (@lindadessau) June 18, 2015
Remember that people may have missed the links you shared last week – keep promoting your old posts!
Know your audience
What works best for business? Know your audience and what they want (like anywhere else) – find natural fit @brittlestar #TweetSS15

— Linda Dessau (@lindadessau) June 18, 2015
I think every Tweetstock speaker touched on this concept, and it's also a common theme at the weekly #CMWorld chats put on by Content Marketing Institute.
Be clear from the start about your blog's mission and who it serves. In most cases this will be the target market of your business – those to whom you want to sell your products and services.
Try this marketing exercise I learned many years ago, where you immerse yourself into your target market by interviewing a different person every day for a month about their needs, challenges, preferences and ideas.
Don't broadcast, help
Good advice from @mabelhood – blog about what your audience cares about, not your product. #TweetSS15 — Sam Fiorella (@samfiorella) June 18, 2015
This was another very popular point at Tweestock, and for good reason. People quickly learn to ignore a business that only sends out promotional information. In order for people to know and trust you, they must first feel that you understand and care about them.
Before posting anything, ask yourself how it will help the reader. Why would someone take the time to click through and read what you've written, and will they be glad they did?
Connect emotionally, authentically
Building relationships the only way to run a biz, social media or in person! @RussLoL #Tweetstock #TweetSS15 #HamOnt pic.twitter.com/UxFUPQl7IH

— Derek Doyle (@DerekDoyle) June 18, 2015
The more genuine you can be in your writing online, the quicker people will be drawn towards you or repelled away from you. Both reactions are exactly what you want, so you end up connected with the people who are most likely to follow you, promote you, recommend you, and buy from you.
Be authentic – be the same person on Twitter, Facebook, on the phone, in person @DMGarofalo #tweetss15 — Linda Dessau (@lindadessau) June 18, 2015
When you read what you've written, does it sound like you? Are you the same person online as you are in person?
Don't just build a network, nurture it
A lot of people talk about numbers in social media, and there can feel like an endless quest to collect more and more. Yet in the end it doesn't matter how many people see, read or share what you write. It's whether they trust you enough to let you help them with your products and services.
To be more relevant to your customers, close your mouth and open your ears @RussLoL #tweetss15

— Linda Dessau (@lindadessau) June 18, 2015
When choosing blog post topics, look to your audience for ideas. Track whether people are opening, clicking on, and reading what you write. Repeat what's working. Survey your readers about what they want to see on your blog.
Want to read more quotes from the Tweetstock conference? Browse this Storify slideshow for my highlights.
P.S. If you liked this post, you might enjoy the Blogging Tips newsletter, delivered weekly to your inbox! Sign up here.