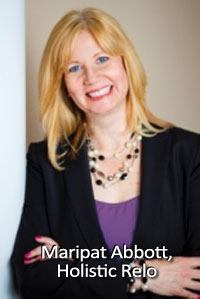 Today I'd like to introduce you to one of my weekly blog post editing clients. You'll hear about how the accountability keeps her on track, along with three other keys to her consistent writing success.
Maripat Abbott is a relocation coach who helps families transition successfully through the emotional ups and downs of a corporate relocation. A certified yoga instructor, she finds that the principles of yoga are key to maintaining balance during transition, whether that is a change in geography or life.
Maripat and I have worked together since 2010 when she joined my Content Mastery Action Club, but had never met in person until last week.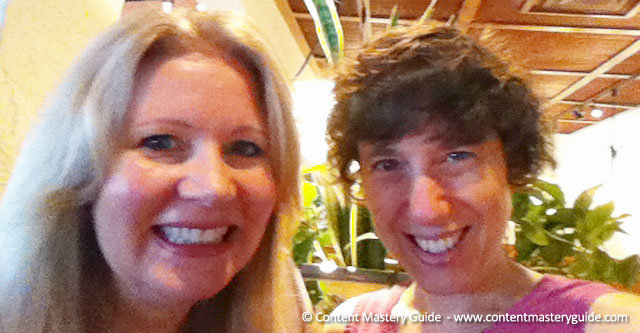 I stopped part way on my drive home from Content Marketing World in Cleveland, and Maripat drove two hours from her home in Pittsburgh so we could meet up in Erie, PA for lunch. It was such a wonderful visit!
Over the years Maripat has produced an impressive array of content that I've had the pleasure to edit, including articles for her newsletter and blog (one on her own site and an external blog she set up), guest posts for other sites and online magazines, LinkedIn, marketing materials, speeches, and her book, We're Moving Where??? Five Steps to Relocation Ease.
Since I've seen so many of my clients and colleagues struggle to keep writing, I've always admired how consistent Maripat has been in sending me something to edit almost every week.
Be accountable
Recently I emailed Maripat to ask her how she does it. "That's easy," she said, "YOU!"
After reflecting on it, she wrote, "Investing in myself by hiring a talented, experienced and caring editor is the main thing that has helped me stay the course. If I pay someone for editing, I don't miss a week of writing. I guess because I'm cheap!" she joked.
"Seriously," she continued, "When I commit to paying, I produce. If I had only myself to be accountable to, writing wouldn't happen at the same volume or at all.
As an entrepreneur, I don't NEED to publish blog posts or anything for that matter. I don't report to a boss. I don't have deadlines. So without a deadline set by Linda, I wouldn't write."
Maripat also finds inspiration from other writers who got over their self-doubt, stuck with their writing schedule, and eventually built a following. "That gives me hope."
Beware of comparing
Of course the downside of following other writers is the tendency to compare and feel like we don't measure up. "My own inner critic is my largest challenge," Maripat notes. "When I look at great writers who get thousands of 'likes' or 'views' on their posts or articles, my inner critic can stop me from writing, if I allow that."
Take it easy
How does Maripat win out over the inner critic when it gets loud? "I write on topics that come easily to me, and postpone the hard topics. Sometimes I will even write poorly, and throw it over to Linda for editing. I'll wait until the next week or so to resurrect it and make it better. Often all I need is a break and a new perspective."
Keep the end goal in mind
"I also try to remember that my job as a coach is to educate on topics that I feel are valuable, and become a recognized expert in my niche, and one way to do that is to write and publish consistently until it pays off."
Brilliant perspective, Maripat! Thanks so much for sharing your experience with us. It's been a pleasure working with you all of these years, and I look forward to many more years to come!
P.S. Want to get started on your own weekly editing package? Check out the 30-Day Blog Starter options.