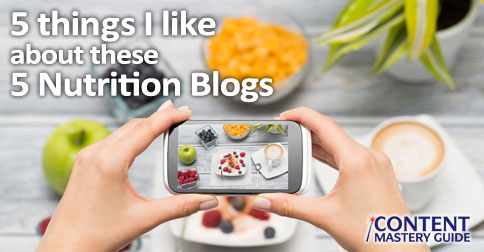 In How to Start a Blog For Your Nutrition Business, my recent guest post for the International Organization of Nutritional Consultants, I included five sample nutrition blogs for inspiration. Let's take a closer look at what these nutritionists are doing well when it comes to blogging for business.
The five blogs are:
1. Joyous Health by Joy McCarthy and team
I discovered this blog awhile back and have since seen Joy's books pop up on the shelves of my favourite health food stores (Nutrition Plus and Goodness Me). I love her positive, joyful approach to healthy eating and living.
2. Simple Balance by Wendy McCallum and Katie Gillingham
The Canadian School for Natural Nutrition (CSNN) has a page spotlighting their members who've written books. That is where I found a link to Wendy and Katie's website and blog and I saw it as a good example of business blogging for nutritionists.
3. Nutrition for Real Life by Allison Tannis
I also found Allison's blog via the CSNN site and thought she was doing a great job as well. Since then, we've connected directly (via Twitter, of course!) and she agreed to an interview about her blogging experience.
4. JulieDaniluk.com by Julie Daniluk
Julie's book, Meals That Heal Inflammation, was helpful in my own recovery from many years of digestive difficulties. I always enjoy catching her appearances on The Marilyn Denis show, and her lessons about the health benefits of specific foods.
5. Crazy Sexy Wellness by Kris Carr
I first saw Kris Carr in a Marie TV episode with Marie Forleo. She is one of Marie's students, and I love how she's combined Marie's online business model with her own passion for healthy eating and living.
Now that you've met these five nutrition bloggers, here are the five things I like most about how they blog for business:
If you have a nutrition business, wellness clinic, or another health-related business, how can you apply these five lessons to your own blog? Haven't started a blog yet? The seven steps in my IONC article can help – no matter what type of business you have!
P.S. If you liked this post, you might enjoy the Blogging Tips newsletter, delivered weekly to your inbox! Sign up here.