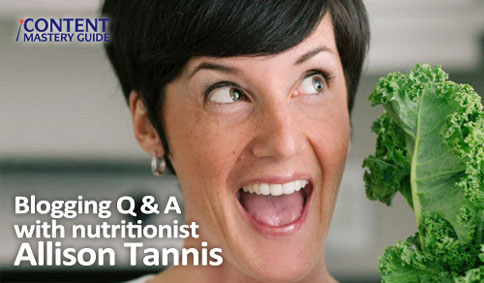 You may know that I have a long-time passion for wellness and self-care, and in particular healthy eating. That led to a recent collaboration with the International Organization of Nutritional Consultants (IONC), and a series of posts here at Content Mastery Guide.
The good news is that the tips I share about writing a nutrition blog will be just as relevant for any wellness business, and other types of businesses as well.
Allison Tannis was one of the five nutrition bloggers I profiled as examples of business blogging done well. She agreed to answer these follow-up questions about her blogging experience:
1. Why did you first start blogging, and how has your blogging changed since then?
I love to write. In Grade 3 I started a family newspaper and wrote articles about our family in it each week. Yes, I even printed and delivered it to my parent's and siblings' doors.
As I've aged, my curiosity about how we can affect our health with nutrients has me digging through scientific journals daily. As such, blogging has been a natural evolution of my love of writing and my love of sharing what I find in journals…but, of course turning the scientific mumbo-jumbo into "English."
Since then, my blog posts have changed slightly with more often my topics being related to questions I get from friends, followers and clients.
2. What have been the biggest benefits of continuing to blog so consistently?
It's so rewarding when someone types to you to say, "Thanks! That was really helpful!"
Consistency of posting has also lead to a strong following of folks who keep coming back – and who share my site with others.
3. Do you use a set calendar of blogging topics and when you will post?
As a consultant in the health and wellness industry, I am hired to write various health-related texts for organizations, magazines and companies. As I am creating pieces for them and researching in journals, I tend to get curious about certain topics (or I can get completely sidetracked at times) and end up with my fingers clicking away creating a new blog post.
Note from Linda: If you ever get distracted while trying to write a blog post, check out these tips about how to balance blog research and writing time.
There is no set schedule that I follow but, I do know that for better SEO it's great if you can put up a new blog about once per week. As such, I try to get something up about once a week and keep it current to the season or news.
4. Does anyone help you with the blogging process (anything from writing, editing, research, publishing, promotion), and how?
No, I'm a one pony show. But I do have an editor who helps me ensure I don't have too many comma splices and typos.
Note from Linda: Smart idea! That's why I offer a hands-free blog editing service.
5. What advice do you have for a new nutrition blogger?
Do it because you want to. Life is short, and busy – don't waste your time doing things you feel you 'need' to do.
There are so many blogs and nutrition-based sites out there today, making it hard to stand out. Don't expect hundreds of followers at first – set smaller goals along the way and celebrate as you reach each tiny milestone.
Note from Linda: If you have decided now is the time to start your own nutrition blog, check out the seven-step process I outlined on the IONC blog.