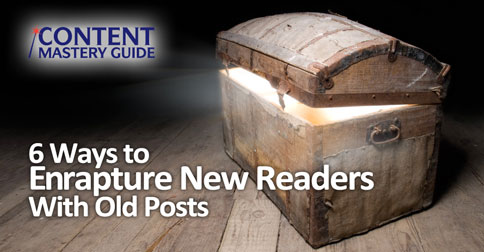 If you've been blogging for awhile, you likely have a treasure trove of posts waiting to be discovered by new eyes – and rediscovered by you.
Scott Gingrich and I share a client and he recently suggested she update some of her old posts. He wants her to have one thorough, comprehensive piece of content that covers each of the main topic areas she helps people with in her business.
I thought this was a great idea! As we've been working on doing this for her, I've been thinking about why and how we can all update older posts on our site.
3 reasons to update an old blog post
Things have changed
Are there facts or recommendations in the post that no longer ring true? You definitely want to correct or update these, so your posts remain relevant and helpful over time (which also brings up the question, should you date your blog?)
You may also want to update any outdated references to current events, but consider preserving them – and your blog – as a sort of time capsule in the evolution of your business.
You know more and you're a better writer
Even if the information is still technically correct, your own views and opinions will evolve as you advance in your business. You'll want your blog to reflect that, because you never know where someone will land to get their first impression of you and your business.
Blogging is a skill like any other. It can be learned and, with practice, mastered. Even stepping away for a few moments as you're drafting a post gives you a fresh perspective and helps you spot typos and places where the reader may stumble. Imagine what you'll find after a few months or years!
People need the information
Has your post continued to gain attention (people reading and sharing it), even as you've added newer posts to the site? This is a clear sign that there is still interest in the topic.
Here's an example from Content Marketing Institute, where they update and republish old posts as part of their Back By Popular Demand series:
Now if this is the only reason you're considering this post and the other two reasons don't apply, consider promoting the post again rather than changing it. Trust me – you won't be bothering anyone with the repetition. Your social media connections may or may not have even seen the link the first time you shared.
6 ways to update an old blog post
When you're planning your future blog posts, look to the past for content you can update and enhance. Chances are, you'll find valuable information your audience needs to hear again, and a compelling message that will draw in new readers.
P.S. If you liked this post, you might enjoy the Blogging Tips newsletter, delivered weekly to your inbox! Sign up here.