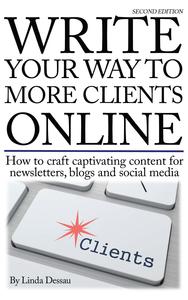 I'm proud to announce that the second edition of Write Your Way to More Clients Online is now available as both a paperbook and an e-book on Amazon (and Amazon.ca for Canadian readers).
From Amazon:
So you've got a website, but now what? How do you keep it vibrant and attractive to your prospective clients? By blogging! Blog posts, articles, newsletters, client stories and social media updates can all work together to:
Keep your site fresh
Start a relationship with your visitors
Build trust in you and your services
Blogging helps you go beyond just telling your visitors who you are and what you do. It engages your prospective clients in a conversation that is based on who they are and what they are dealing with. It starts you out on the right foot by demonstrating your expertise and providing service right from the start – with valuable information they're looking for right now.
This book will help you create high-quality content and publish it consistently throughout the month. Here's a taste of what you'll discover inside:
How giving away free information attracts clients to hire you
How to structure your content writing time for maximum results
How to transition from publishing a monthly newsletter to posting to a blog throughout the month
Why content marketing is a highly-effective alternative to speaking, cold calling, and paid advertising (I can almost hear you sighing in relief!)
How a consistent publishing schedule will help you land more clients
How to talk back to that inner voice that says, "I'm no expert, who am I to write an article?"
How to claim your expertise using other people's content (no plagiarism required!)
Why traditional article marketing could actually be hurting your business reputation (and how to get your content out there the RIGHT way)
How to capture your great ideas no matter where you are and banish article writer's block forever
Advanced writing skills that will make your content stand out
And much more!
What's new in the second edition?
The content: I reviewed every word of the book to ensure it's still relevant and helpful. While of course I've written several new books worth of material since 2010 when the first edition came out, I strongly believe that what's here is still an excellent guide for beginners to online writing.
The style guide: I've updated and incorporated the best sections of my previous book, The Customizable Style Guide for Coaches Who Write, so that you'll have answers to your most common writing and editing questions – right at your fingertips.
The price: I've adjusted the price to $9.99 to make the book more accessibly-priced and in alignment with Amazon's marketplace.
You can visit Amazon.com or Amazon.ca to get your own copy of Write Your Way to More Clients Online, Second Edition.