This post was originally published at Build a Better Blog.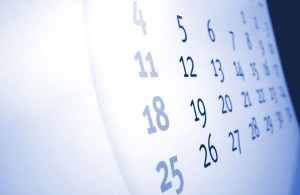 In his October 2011 post about why you no longer need a blog (in the traditional sense), John Jantsch of Duct Tape Marketing predicts that soon our content will "no longer be consumed in chronological fashion."
When Jim Connolly of Internet Marketing Jam explored the question of why people remove dates from their blog posts, he came to the conclusion that marketing blogs need dates, as do blogs in any industry where information changes quickly. [Update: This paragraph was updated on Apr 24, 2017 when I discovered that Jim had refreshed his original post.]
What are the pros of blogging without dates?
What benefits did Jim Connolly see? People were spending more time on his site, and older posts were getting more views, comments and social media mentions.
His feeling was that people are sometimes turned off by seeing that a blog post is "past due," whether to them that means it's a week old, a month old or six months old. They simply won't click through to read it.
Removing the dates, he says, allows your blog post titles and topics to stand on their own merit without that filter. It puts all the focus on the content and makes it easier for your readers to find what they need.
Dateless blogging also gives you more freedom to update existing posts – simply treating them like any other page of your website.
What are the cons of blogging without dates?
"A blog is really a public chronicle of our evolution as writers, marketers and entrepreneurs. While some older content may make me cringe and wish I'd known then what I know now, I try to celebrate my learning and how far I've come." – Linda Dessau, in Is it okay to go back and edit your published blog posts?
By presenting an online journal of your evolving views, suggestions, theories, personal insights and business practices, you're inviting your readers – and prospective clients – right into your business, heart and mind.
By forcing each post to stand alone with no context of who you were when you wrote it, you remove some of the personality from your blog – some of your personality.
The best of both worlds
Consider how U.S.-based supermarket chain Wegman's organizes content on their site. They have a separate area for "fact sheet" articles about the core issues they know their customers care about.
Then there is the consistently updated Fresh Stories blog, where Wegman's staff post personal and timely food and lifestyle tips. In this article about healthy strategies for the holiday season, they reinforce a core concept from the fact sheets ("half-plate healthy"), but make it current for the season.
Will you keep dating your blog?
If you choose to keep dating your blog, there are still several ways that readers can discover your older posts, including:
What do you think? Will you keep dating your blog? Will you pull together your content into fact sheets? Or will you go completely dateless?