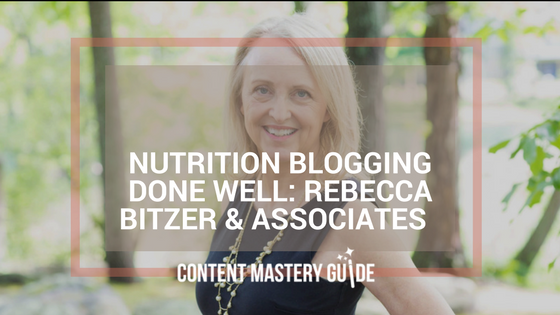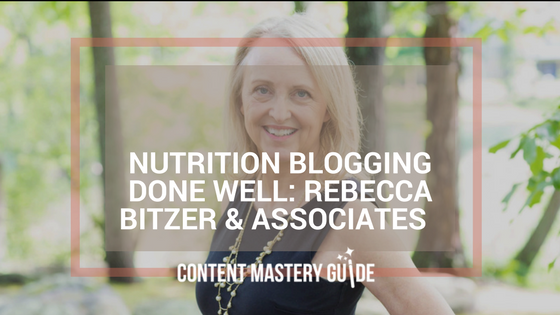 Rebecca Bitzer & Associates: REBEL Dietitians is the largest outpatient nutrition counseling practice in Maryland and has operated for over twenty-nine years.
With seven registered dietitian nutritionists (RDs) and three locations, they focus on finding personalized solutions for busy people so nutrition and cooking are simple, no matter what condition people are coming in to manage or prevent.
They achieve this through individual nutrition counseling, corporate presentations, and nutrition classes, as well as through blogging.
The REBEL Dietitians blog is a treasure trove of practical advice and recipes, and Rebecca was generous enough to answer a few questions about their blogging experience.
How many of your dietitian nutritionists contribute to the blog, and how often?
We are a team of seven registered dietitian nutritionists. Five of us contribute to the blog. Each of us has a specialty so we try to include blog posts that are helpful to each RD's audience.
For instance:
Kaitlin Williams, RD, LD, wrote a blog post on what to cook when you don't feel like cooking:
https://rbitzer.com/dont-feel-like-cooking/
Klara Knezevic, RD, LD, helps clients eat local foods and foods in season. Here is her blog post about autumn foods with inspirational recipes:
https://rbitzer.com/produce-in-season-in-the-fall/
Dana Magee, RD, LD, CLT, is our digestive specialist and she writes about FODMAPs like this blog post about low FODMAP breakfasts:
https://rbitzer.com/low-fodmap-friendly-breakfasts/
Alex Raymond, RD, LD ,works with clients to eat without without the unnecessary restrictions of dieting. Here is a recent blog post on how to lose weight (without dieting) after vacation:
https://rbitzer.com/6-tips-lose-weight-gained-vacation/
Rebecca Bitzer, RD, LD, CEDRD, recently blogged about the benefits of eating chili and her four favorite chili recipes:
https://rbitzer.com/homemade-chili-recipes/
You can expect one new blog post per month from each of us. We also do one compilation post per month where each of us contribute a recipe or a nutrition tip to give various perspectives.
Klara Knezevic, RD, LD wrote this compilation blog post with recipes from all of us where the entire meal is prepared using just one pan:
https://rbitzer.com/8-chicken-sheet-pan-dinners/
Is blogging a requirement at your practice? Do some of your dietitian nutritionists need prompting or extra encouragement, and how do you handle that?
We believe that the world depends on social media. More and more people look online before choosing to work with a professional so blogging is a priority for us.
In addition to attracting new clients, we want to make sure that our current and former clients have a valuable resource to help keep them focused and accountable and most of all inspired to keep meeting their nutrition and health goals.
Our blog posts are so filled with content, our dietitians often print out blog posts to discuss with clients as certain challenges become known during the session. For instance, if a client is struggling with overeating during Thanksgiving, we give tips and tools on how to eat more mindfully during the holidays.
One of our dietitians is in charge of setting deadlines and themes for each month. It takes time for all of us to cook the recipes, take photos, and add recipes to our database of recipes. Everyone is busy but we collectively share the value of writing strong blog posts, so we encourage each other.
An added bonus is that oftentimes the person cooking a new recipe brings it into the office to share so we can all enjoy it!
Do you use a set calendar of blogging topics and the types of posts you write?
While most of our blog posts are recipe based, some are self-care based because we believe that self-care is always key, especially when trying to make changes in health behaviors.
Each RDN writes about something she is passionate about, which helps her voice and authenticity come through. Also, it helps her have fresh, new material to share with her clients.
I notice you choose not to date your blog posts. Has it always been that way? What was the thinking behind that choice?
We recently hired a professional branding company to update our website (which is another story). [Note from Linda: Believe me, Rebecca, I can relate!]
When we were updating our website, we decided to do an overhaul of our 400+ blog posts. As a group, we reviewed, edited, updated and removed outdated blog posts. This is when we decided to hide the dates of the blog posts.
The reason behind hiding the dates is that we repost our seasonal and holiday blog posts on social media. Since we are always attracting new followers, it made sense to link to these "timeless" posts. Removing the dates ensures these posts do not look repurposed.
Just because we wrote a great Halloween blog post last year, it does not mean that our all of our current followers saw it last year. The tips and hacks are still useful and the photos and recipes are excellent – so let's reuse it!
Stay tuned for Part 2 of this post to learn about the REBEL Dieticians' early blogging days, the biggest benefits they've seen from blogging, and more!
In the meantime, keep reading here for more inspiration and tips for a multi-author wellness blog!