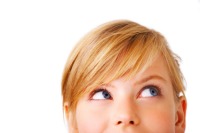 During the How to Write a Blog Post webinar, I mentioned how quotes, statistics and other powerful article openers can also be idea generators for your blog posts.
I've combined those here with some of my other favourite sources for blog post ideas. Happy writing!
Images – Instead of just searching for an image after you've already started or finished your post, why not browse an image site and see what ideas it sparks?
News – Elena Verlee wrote about how to turn news stories into ideas you can pitch to journalists – or write about in your blog. You can also check out my Write for the Headlines series of blog post ideas for coaches. If you prefer to focus on good news, this blog is for you.
Google Alerts – This tool allows you to filter the news by signing up for email updates when anything new is posted about a particular topic. Subscribe to the topics you and your clients are most interested in. Whether you just pass it along or write your own review/response, make sure to put yourself into the content that you share.
Google search – You can also just go to Google and begin typing different phrases about your topic ideas or blog categories. Google will automatically suggest phrases based on what other people have searched for. Check out what people want to know, what information is already out there AND what's missing.
Statistics – HubSpot and the Content Marketing Institute are great sources for statistics about social media and content marketing. Find the organizations or associations who are generating statistics about your industry, or browse Stats Can in Canada or the Census Bureau in the United States.
Quotes – Type in a search term at a site like ThinkExist and see where it takes you.
Social media updates – Identify the people whose updates tend to get you thinking. They may share quotes of their own, powerful coaching questions, thought-provoking ideas or links to their own blogs or others. Bookmark these profiles or set them up as a saved search.
RSS subscriptions – Do the same thing with the bloggers you go back to time and again for ideas, quotes and resources. You can either sign up to receive their latest posts by email or set them up in a "Blog Ideas" folder in your feed reader.
Your Inbox – Could your last email exchange be your next blog post? Take note of any requests you receive for advice and recommendations. You'll help more people when you share your answers as a blog post.
Question and answer forums – Browse Quora, LinkedIn Answers, LinkedIn groups or other discussion and research forums. Which questions can you answer? [Update January 19, 2013 – LinkedIn Answers will be discontinued at the end of January 2013.]
BONUS: Live events – Get out and talk to people, both in and out of your target audience. You never know where you'll find a unique perspective on your topic.
The next time you're staring at a blank page and waiting for inspiration to strike, try your luck with one of these blog post idea generators.